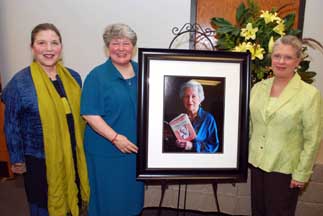 LePoint Cassibry Smith's daughters (from left) Ivy Smith Alley of Jackson, Charlotte Evan Smith of Summerville, S.C., and Mimi Smith Clark of Alexandria Va., stand with the portrait of their mother which will be on display in the Howarth Seminar Room of Capps Archives and Museum on the Delta State campus
The Delta State University Capps Archives and Museum's Howorth Seminar Room was the scene on October 11 for the Lucy Somerville Howorth Award, also known as the Judge Lucy Award.
The Lucy Somerville Howorth Award is given every other year to a woman of the Delta who has made significant contributions to society. These contributions can include community service which enrich the lives of those in the Delta, a diligent effort to encourage education among girls and women, a demonstration of passion and drive for the advancement of women, political enlightenment and equity for women, the use of her talents for the betterment of her community, and the promotion of the Delta in a positive way.
This year the award was presented posthumously to LePoint Cassibry Smith.
The nomination letter of Jeff Slagell, director of Delta State University Library Services best states Smith's invaluable contributions to the Delta. In his letter, Slagell wrote "Mrs. Smith was the first director of the Bolivar County Library System and served in that role for 27 years. She was instrumental in developing a system that to this day offers invaluable resources to the local and regional community. Mrs. Smith was also active at the state level, serving as a past president of the Mississippi Library Association. Her professional dedication has been recognized through various awards including the Mississippi Library Association's prestigious Peggy May Award and the American Library Association's John Cotton Dana Award for Best Publicity in Public Libraries.
Beyond the library profession, Mrs. Smith has had a significant impact on numerous civic organizations and in turn served as an ambassador for Cleveland and the Delta in general. She was a founding member of the Cleveland Junior Auxiliary, treasurer of the Bolivar County Historical Society, and instrumental in the formation of the Cleveland Arts Council and Crosstie Arts Festival. In addition, she has served as a board member for the Cleveland Chamber of Commerce, Cleveland Community Action Program, and United Givers Foundation.
Her tireless efforts have enriched our community and provide an exemplary role model for others to follow. I can't imagine a more deserving candidate and am delighted to have had the opportunity know Mrs. Smith and submit this nomination."
LePoint Cassibry Smith's personal/professional papers have been donated to the Delta State Archives and her portrait will hang in the Howarth Seminar Room along with other Judge Lucy Award winners: Keith Dockery McLean, Emma Knowlton Lytle, Mae Bertha Carter, and Franke Keating.