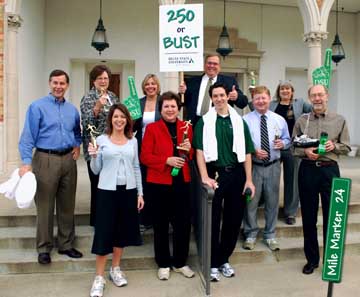 Celebrating a fast start on the first day of competition, the Cabinet Cruisers are (front l-r) Michelle Roberts, Leslie Griffin, Jeremy McClain, Wayne Blansett, Greg Redlin (back l-r) Keith Fulcher, Myrtis Tabb, Debbie Heslep, John Hilpert, Patricia Roberts. Not pictured Ann Lotven.
With Fall beginning and the temperature in the Delta dropping, competition in Cleveland is just starting to heat up.
Last week at the ribbon-cutting ceremony for the new fitness trail at Delta State University, President John Hilpert challenged Cleveland Mayor Billy Nowell and the City of Cleveland to a walking contest. The contest includes 11 team members from each organization. The first team to walk a cumulative 250 miles,
which is equal to the distance from the Delta State fitness trail to the Blue Cross/Blues Shield Foundation of Mississippi headquarters and back,

will be declared the winner.
In a recent development, new President of the Cleveland-Bolivar County Chamber of Commerce James Glorioso gathered his own team and entered into the fray.
All three teams are set to begin the competition today.
"Delta State University has never been afraid of competition," said Hilpert. "Certainly, in the spirit of building a healthier campus and community, we welcome the late entry of the team from the Chamber – the more participants, the greater the challenge, the sweeter the victory."
Hilpert went on to explain, "While our competitors are younger and have issued some pretty brash statements I know the competitive strength of this Cabinet team. We may be older, but we're craftier and more determined. We'll let them do the talking and we'll do the walking. As a matter of fact, our team reached the 24 mile mark before 8 a.m. this morning."
Members of the Delta State Cabinet Cruisers are: John Hilpert, Wayne Blansett, Keith Fulcher, Leslie Griffin, Deborah Heslep, Ann Lotven, Jeremy A. McClain, Greg Redlin, Michelle Roberts, Patricia Roberts, and Myrtis Tabb.
The fitness trail at Delta State opened last week, marking the first phase of the "Healthy Campus/Community Initiative" which seeks to build a campus and community culture of wellness while addressing the unique health challenges of the Delta. The initiative is led by Delta State's College of Education, which was awarded a $700,000 grant from the Blue Cross & Blue Shield of Mississippi Foundation.