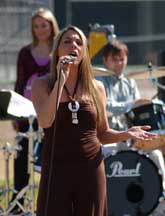 P. Diddy's Starmaker winner, Liz Davis, performs during 2005 Homecoming festivities at Delta State
Mississippi native and former Delta State University student Liz Davis was crowned the winner of P. Diddy's Starmaker during Sunday night's finale broadcast of the MTV reality competition series.
The 21 year-old claimed the show's grand prize of a record deal with Sean "Diddy" Combs' Bad Boy Records label.

In winning Starmaker, Davis became the first predominantly country artist to sign with Bad Boy.
Liz, and her entire family have strong ties to the University.
"Our whole family spent time in Cleveland and at Delta State," said Liz's mother Lauree Davis. "Delta State played a big part in the lives of our family. Liz's time there helped her to achieve the success she's enjoying today."
Liz's father, Dale, and mother both attended Delta State on athletic scholarships.
"Dale played baseball for Coach "Boo" Ferriss from 1977-81 and I received the first tennis scholarship for a female in 1979," said Davis.
Liz's older sister, Kelli Davis-Cotton graduated from Delta State in 2004 with a degree in marketing. She now resides in Cleveland and works for Coopwood Communications.
Liz's younger brother Jeffrey is a junior at Canton Academy. "Jeffrey is an athlete and we don't know where he'll go for sure, but he could wind up at Delta State just like the rest of the family," laughed Davis.
Performing at a talent show in Jackson, Liz Davis caught the eye of Norbert Putnam, an accomplished musician and producer who played bass for Elvis Presley and helped launch the careers of Dan Fogleberg and Jimmy Buffet. Putnam encouraged Davis to enroll at Delta State University, where he was director of the Delta Music Institute,a center for music industry studies focused on educating students in the technological, business, and creative areas of the music industry.
Once enrolled at Delta State, another music instructor influenced Liz's life and career path. She received a music scholarship and was a member of "Renaissance" a popular vocal and instrumental ensemble led by Gene Ayers.
"Gene Ayers probably had the greatest influence on Liz during her time at Delta State," said Davis. "She absolutely loved to perform and 'Renaissance' gave her the opportunity."
Another instructor who recognized Liz's talent was current Director of the Delta Music Institute Tricia Walker. "I taught Liz in a song writing class and her focus was very evident even as a student," said Walker. "Having spent over 25 years in the music business, I believe Liz's natural ability and instinct will take her a long way in the music industry."
In the fall of 2006 Liz Davis left Delta State to pursue a career in music full time.
"Liz felt in her heart it was time to make the move and we supported her," said Davis. "Even so, our whole family has fond memories and we love Delta State."
For now, Liz Davis is back in Nashville. "She's waiting to go to New York to sign her contract with Bad Boy/Interscope records," said Mom. "This opens the door to a world of possibilities and we couldn't be more proud or excited."