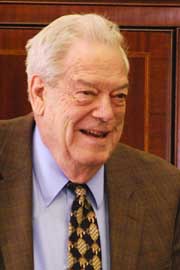 Dr. John C. Merrill, a renowned journalism educator and author, will pay tribute to his hometown of Cleveland and his alma mater Delta State University with the presentation of his many awards and 33 published volumes to the University Archives and Museum on Wednesday, Oct. 21, at 2:30 p.m. inside the Capps Building.
Former Mississippi Rep. Charles W. (Charlie) Capps, Jr., will accept the gifts on behalf of the Museum.
Dr. Merrill, a professor emeritus at the University of Missouri Journalism School, earned his undergraduate degree in English at Delta State, followed by master's degrees in journalism from Louisiana State University and philosophy from the University of Missouri, and a Ph.D. in mass communication from the University of Iowa. He has taught and lectured in some 70 countries.
Each year, outstanding journalists lecture at Delta State though the John Merrill Lecture Series, which was established in 2006 when Dr. Merrill gave a substantial personal donation to the fledgling Delta State University journalism program.
The John Merrill award which is the top journalism award at Delta State is presented annually through a gift from an anonymous donor.
Both former Capps and Merrill were 1942 graduates of Cleveland High School.
The event is sponsored by the Delta State Division of Languages and Literature, the Delta State Alumni Association, and the Delta State Archives and Museum.
The event is free and open to the public. For more information, contact Patricia Roberts, assistant professor of journalism at (662) 846-4468