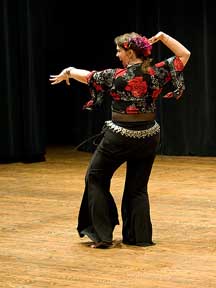 Are you looking for a new way to exercise that can be fun while building long, strong muscles, then you need to take advantage of a belly dancing class to be offered by Delta State University's Graduate and Continuing Studies.
Participants will learn the basic moves of belly dance and apply those moves to dancing while increasing your core strength and endurance. No experience is needed! Recruit a friend or come make new friends!
Teri Herron, assistant professor of music at Delta State, will be the instructor for the class scheduled to meet on Tuesdays beginning Oct. 27, Nov. 3, Nov. 11, Nov. 17, Dec. 1 and Dec 8, from 6 – 7 p.m. in Suite 329 of the Greenville Higher Education Center.
Cost is $55 per person which includes all six class sessions. Deadline to register is Friday, Oct. 23.
For more information or to register contact, Marilyn Read in the Office of Graduate and Continuing Studies at (662) 846-4874.