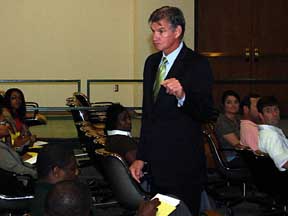 Bill Bond (standing, center) addresses the program audience in the Jacob Conference Center of Ewing Hall at Delta State University.
The Delta Area Association for Improvement of Schools (DAAIS) and the Delta Health Alliance at Delta State University recently held a Safe Schools program with a presentation by Bill Bond. Bond recently spent two days in the Delta area working to make safe and orderly schools a top priority.
In 1997, Bond was the principal of Heath High School in Paducah, Ky., when a 14-year-old freshman shot eight fellow students, killing three of them. He retired in 2000 to become a resident professional for safe schools for the National Association of Secondary School Principals. He travels across the nation, delivering and sharing his knowledge on school safety. He has become an authority on school violence and related issues. His presentation covered the details of responding to a school crisis.
The program, held in the Jacob Conference of Ewing Hall, was attended by about 60 area superintendants, principals, school administrators, school safety officers, teachers, and members of law enforcement assigned to schools.
The primary purpose of DAAIS is to provide services and professional development opportunities for personnel of member schools, as well as curricular and enrichment opportunities for their students. The mission of the Delta Health Alliance is to advocate, develop, and implement collaborative programs to improve the health of citizens in the Mississippi Delta.