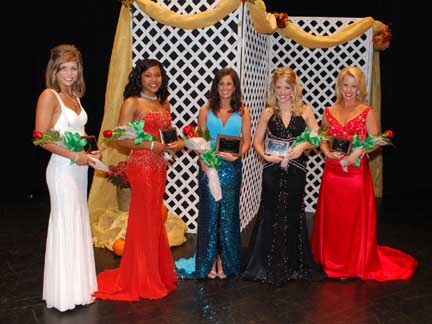 Four Beauties, Most Photogenic and the Most Beautiful winners were announced following the Most Beautiful Pageant held in the Bologna Performing Arts Center on the campus of Delta State University.
Pictured, from left, are: Kayla Brooke Murphy, a freshman pre-nursing major of Hernando, Beauty; De'Lisha Wiggins, a junior nursing major of Vicksburg, Beauty; Lindsey Redden, a junior nursing major of Boyle, Most Beautiful; Megan Frazier, a junior dietetics and nutrition major of Grenada, Beauty; and Rebecca Bailey, a sophomore graphic design major of Pearl, Beauty. Not pictured: Holley Peel, a junior or Greenwood, Most Photogenic.
Also included in the Top Ten category were Victoria Havens of Southaven, Molly Slonaker of Clinton, Kate Moreland of Starkville, Gina Elaine Whitmire of Clarksdale, and Brittany Nicole Bradford of Cleveland.
The pageant was sponsored by the Delta State University Student Government Association and produced by the Pageant Board, a DSU student organization.