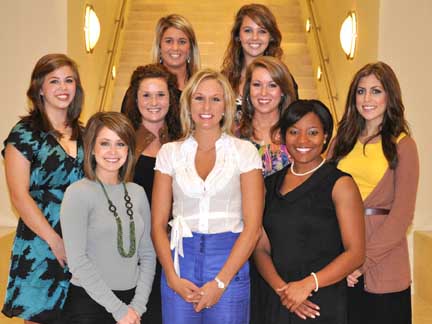 Delta State students elected to serve on the Homecoming Court for 2009 are: (front row, from left) Senior Maids Christy Crosby of Memphis, Tenn., Lacey Mixon of Brandon, Tara Dunn of Picayune; (second row, from left) Junior Maids Beka Alford of Senatobia, Kori Strickland of Cleveland; Sophomore Maids Kayla Woods of Duck Hill, Sarah Strickland of Germantown, Tenn.; (back row, from left) Freshman Maids Kendall Sizemore of Cleveland, and Brittany Bradford of Cleveland.
The Delta State University Homecoming Court will be presented and the Queen announced and crowned during halftime of the football game which begins at 4 p.m., Nov. 7, at Parker Field on the DSU campus.
The maids and the queen were elected by the students of Delta State in elections sponsored by the Student Government Association.