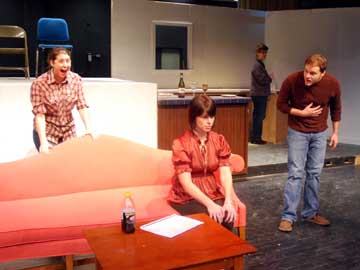 Cast members (from left) Amber Roy, Jamie Jacks, Beth Jacks and Andy Howell rehearse a scene of "Rabbit Hole" in Jobe Auditorium.
The Communications Studies and Theatre Arts Department of the Division of Languages and Literature at Delta State University will open the play "Rabbit Hole" Tuesday, November 3, at 7:30 p.m. in Jobe Auditorium on the campus. The production will also run Wednesday, November 4 and Thursday, November 5, starting each night at 7:30 p.m.
"Rabbit Hole" was written by David Lindsay-Abaire. It won a Pulitzer Prize in Drama in 2007. The play centers on a young couple, Howie and Becca, whose five-year-old son was killed in an automobile accident.
The cast of five is comprised of Jamie Jacks, of Cleveland, playing Becca; Andy Howell, of Grenada, playing Howie; Amber Roy, of San Antonio, Texas, playing Becca's sister Izzy; Beth Jacks, of Cleveland, playing Becca's mother Nat; and Cory Vanlandingham of Grenada, playing Jason, the driver of the other car in the fatal wreck. The cast is a combination of Delta State students and community members.
Admission is free for Delta State students, faculty and staff with school identification and $5 at the door for the general public.