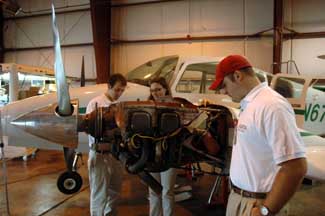 Delta State University aviation majors (from left) Clayton Gressett of Madison, Megan Tutor of Como and Jake Sheehan of Collierville, Tenn. brush up on the preflight inspection in preparation for the competition.
Aviation students from seven universities and community colleges are on the Delta State University campus this week for the National Intercollegiate Flying Association (NIFA) 2009 Region IV SAFECOM (Safety Competitions). Region IV encompasses the states of Arkansas, Louisiana, Mississippi and Texas.
Along with the Delta State aviation majors, students from Central Texas College in Killeen, Texas, Hinds Community College in Raymond, Louisiana Tech University in Ruston, La., LeTourneau University in Longview, Texas, Texas State Technical College in Waco, and University of Louisiana in Monroe are at the competitions at Delta State. All total, including students and coaches, there are 91 people taking part in the SAFECOM event.
Competition events are scheduled for Oct 14-17, with ground tests including Computer Accuracy, Preflight Inspection, Ground Trainer, Aircraft Recognition, and Simulated Comprehensive Aircraft Navigation (SCAN) going on during the first day and part of the second day in the Baioni Conference Center in Broom Hall and at Gibson-Gunn Hall.
Flight competition events will be held when the weather breaks and include Navigation, Short Field Landing, Power Off Landing and Message Drop. The flight competitions will be held at the Cleveland Municipal Airport.
The 2009 Region IV SAFECOM will conclude the morning of Saturday, October 17, with a business meeting and an awards banquet, scheduled to be held in the State Room of the H.L. Nowell Union on the Delta State campus.
The National Intercollegiate Flying Association (NIFA) is a professional organization that provides a forum of competition and learning for aviation students from colleges all around the United States.