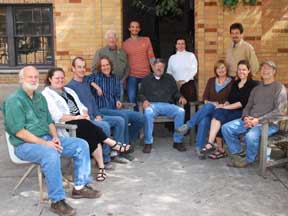 From left to right, front: Duncan Baird, Catherine Koehler, Ky Johnston, Nathaniel Hein, Ron Koehler, Mollie Rushing, Robyn Moore, Joe Abide. Left to right, back: Bill Lester, Cetin Oguz, Pat Brown, Kim Rushing. Not pictured are Michaela Merryday and Collier Parker
The Delta State university art faculty will present work produced during the past year in the annual Faculty Art Exhibition to be held in the Wright Art Center Gallery on campus.
Opening with a public reception on Sunday, Nov. 8, from 4 – 6 p.m., the exhibit will remain in the gallery through January 16.
Continuing his exploration of paintbrushes as art, Ron Koehler will be presenting Icon Brush Boxes, a series carved from a variety of wood types. Duncan Baird will be displaying work that represents a continued interest in simple and essential form. He is intrigued by the depth of meaning brought forth in the association of these forms with the materials and processes used in making them.
Pat Brown will be showing architecturally influenced works in handmade paper. The series presents ideas about houses and homes which are open or closed, places of safety or troubled environments, and in general the symbolic nature of the dwellings we inhabit. Catherine Koehler will also be showing works in handmade paper in addition to expanding upon her series on the seven sacraments of the Catholic Church.
Both Collier Parker and Bill Lester will be exhibiting landscape paintings inspired by the Mississippi Delta. Parker's landscapes of local bayous and gardens record the progression of the seasons from high summer through early fall and document his response to the afternoon light and color changes over this period. In addition to oil paintings of the area surrounding the Dockery Plantation, Lester will also be showing photographs of Dockery as well as a newly designed competition turkey call that will be used in the 2010 National Wild Turkey Federation Show next year.
Mollie Rushing describes her works in fiber as paintings comprised of fabric, thread and color. The richness of the fabrics texture and color creates a feast for the viewers' eyes and hopefully touches their soul with peace and quiet in a troubled world. A new edition to the Delta State Art Department, Art Historian Michaela Merryday will be displaying textile-derived work as well. Merrydays' interest in felting was sparked by her loyal companion for many years, a Komondor. In ancient times these imposing dogs roamed the mountain ranges and steppes of Eurasia with nomadic tribes. Komondorok have a unique felt-like coat that hangs in long cords and it is this quality that has served as inspiration for her current work.
Photography faculty member Kim Rushing examines the use of a cell phone camera for the production of fine art in his work this year. The photographs he presents were all made using an iPhone camera and an application that allows the user to stitch together several pictures to form a panoramic photograph. Rushing points out the fact that many people have these tools, which are less expensive and cumbersome than traditional digital cameras, and hopes to convey to viewers that they too can achieve great images. Fellow photography faculty member Robyn Moore will be exhibiting works inspired by her summer travels to Peru and Colorado. She will be showing selenium-toned Van Dyke Brown prints and encaustic on panel.
Graphic Design faculty member Nathaniel Hein will be presenting an Installation and Video Performance that he collaborated on with Jennifer Gonzales. The work, comprised of reclaimed materials, is a space to provide a place to react to the psychological overload from participating in the cycle of consumerism. The plastic gratitude of the shopping bag is padded with shredded credit card offers to cushion any outbursts. The video was shot in analog and then transferred to digital.
In addition to the aforementioned faculty members Joe Abide, Cetin Oguz, and Ky Johnston will be showing work as well.
The public is cordially invited to the opening reception and to view the artists' work throughout the exhibition period.
Gallery hours are 8 a.m.-8:30 p.m. Monday-Thursday and 8 a.m.-3:30 p.m. on Friday, closed weekends and holidays.
For more information, please call the art department at (662) 846-4720.