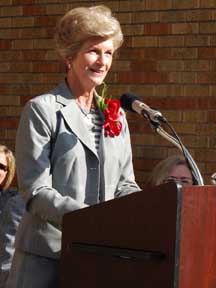 Chair and Professor Emeritus

of Mathematics Dr. Rose Strahan speaks to the crowd of Delta State faculty, staff, students and community members gathered for the announcement of her major gift for endowed mathematics scholarships
Chair and Professor Emeritus of Mathematics at Delta State Dr. Rose Strahan has made the largest planned gift of any employee of the University. Strahan's gift was announced today during a press conference in front of Caylor-White-Walters Hall on the Delta State campus.
"Rose's gift to cover the annual premium of a $750,000 life insurance policy is the largest planned gift to my knowledge ever made by an employee of the University," said Alumni-Foundation Executive Director Keith Fulcher. "Her gift to the Math Department will one day result in approximately $30,000 in annual scholarship money. A significant increase over the $5,000 they have available this year."
The Rose Strahan Endowed Scholarship for Mathematics was established by the Delta State University Mathematics Department faculty as a surprise for Strahan, who retired in June.
Strahan felt honored to continue the tradition of an endowed scholarship, several of which have been established for former Delta State Mathematics Department professors, including Dr. Eleanor Walters and Ray Wilson. "It is important for me to help students. I had to pay my own way and I hope my gift will enable students who are struggling to complete their college degree. A college degree changed my life," Strahan stated.
"Rose Strahan devoted her professional career to making Delta State's students successful. She helped countless students achieve their academic goals," said Delta State Provost and Vice President for Academic Affairs Dr. Ann Lotven. "This gift will enhance the university's ability to better fulfill its mission and make it possible for students who might not otherwise have been able to pursue an academic degree to realize their dream."
Strahan served as chair of the Mathematics Department from 1978 to 2009. She graduated from Calhoun City High School, where she was a member of the basketball team. She finished Hinds Junior College in Raymond and transferred to Mississippi College where she completed her degree in mathematics in 1963.
Strahan taught mathematics at Gulfport High School and Murrah High School in Jackson before completing her master's degree from the University of Mississippi and her doctorate from the University of Florida in 1980.
Strahan credits her educational success to her parents stressing the importance of a formal education and their instilling in their children that a college degree was an obtainable objective. Strahan said, "My parents could not offer me any financial support; however, they offered me something more valuable than money. They emphasized to me at an early age the importance of an education and provided me with the work ethic that helped me pay my way through college."