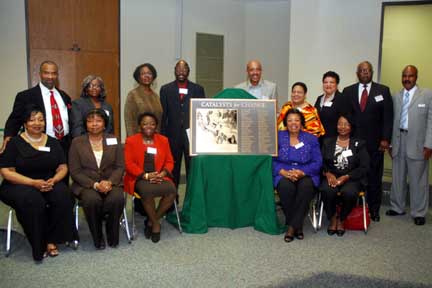 Delta State Alumni that participated in the sit-in attending the program are: (seated, from left) Cora L. Hicks of Chicago, Ill., Lula Orsby-Jones of West Helena, Ark., Mary Louis Bass of Killeen, Texas, Effie Sledge of Batesville, Ark., Yvonne McClinton Stanford of Clarksdale, (standing, from left) Beverly Edward Perkins of Cleveland, Maggie Crawford of Cleveland, Muriel McCraney Lucas of Cleveland, Talmadge Davis, Jr. of Cleveland, Willy E. Cherry of Benoit, Jennifer Buckner of Cleveland, Joann Anderson Wynn of Hattiesburg, Thomas E. Edwards of Ruleville, and J. B. Smiley of Bartlett, Tenn.
Delta State University celebrated its diversity by commemorating the 40th anniversary of the sit-in demonstration with a program entitled "Catalysts for Change: Understanding Diversity at Delta State" Tuesday, Oct. 27, in the Jacob Conference Center of Ewing Hall.
Delta State alumni that participated in the demonstration in 1969 were honored during a commemoration of the event and the changes it brought.
On March 10, 1969, a group of 52 students staged a sit-in demonstration in front of the Delta State's President's Office to protest the disregard of a list of demand previously presented to the administration. The students were arrested and imprisoned for the night at Parchman State Penitentiary. The next day, they were returned to the Bolivar County Court House where they were released on $200 bonds.
The actions of the students have now been seen as a turning point for race relations at Delta State University.
The highlight of the program was a panel discussion featuring participants from the 1969 sit-in and a professor from the time of the sit-in. The focus of the panel discussion was the events that led up to the sit-in demonstration, and the demonstration itself.
Sponsored by the Delta State University Diversity Advisory Committee, the program was intended to celebrate the courage and conviction of those former students who became "catalysts for change" at Delta State.