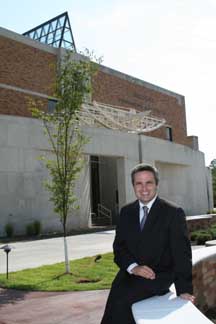 Executive Director of Delta State University's Bologna Performing Arts Center (BPAC) David Dallas is stepping down in order to pursue another professional opportunity.
"While I am excited about a new professional opportunity, I am going to miss Delta State," said Dallas. "It has been a blessing to work with the people throughout this campus, particularly the wonderful staff at the Bologna Performing Arts Center. The BPAC plays such a vital role in the life of our community and region. The support we received during the past few monthsmakes me very hopeful for its future success."
"As a member of the advisory board, I have enjoyed working with David on redeveloping the Bologna Performing Arts Center's approach to marketing the center and its programs. He has enjoyed much success this year by increasing membership. It has been a pleasure to work with David and he will be missed," said Jon S. Levingston.
A long-time advocate for the arts, Dallas has served as executive director of the BPAC since 2004, and is responsible for bringing numerous world-renowned performers and programs to Cleveland.
Dr. Myrtis Tabb, associate vice president for Finance and Administration said, "I have only had a very short time to work directly with David Dallas as Executive Director of the BPAC. I have enjoyed his enthusiasm, his commitment and dedication to the arts, not only at Delta State University, but also throughout the Delta Region and the state of Mississippi. We will miss his leadership at BPAC; but, also recognize that this is an exciting new opportunity for him."
"I know everyone at the university wishes Mr. Dallas much success as he pursues his new career opportunity. He will now dedicate his talents and his enthusiasm to healthcare, an area of service that means so much to everyone who lives in the Mississippi Delta," said Delta State President John Hilpert.