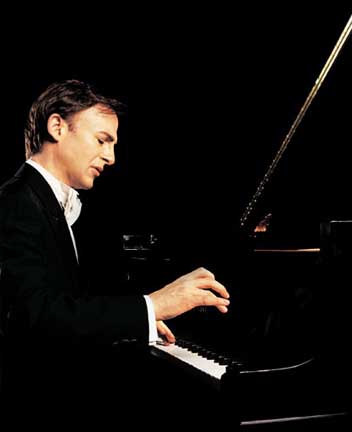 Renowned pianist and Cleveland native, Bruce Levingston, will open the Bologna Performing Arts Center season with a special solo concert on Thursday, September 17, at 7:30 p.m.
The performance will include works by Schubert, Beethoven, Debussy, Rachmaninoff and Liszt as well as a new work composed by the acclaimed 2009 Rome Prize winner Lisa Bielawa, commissioned in honor and memory of Levington's mother, Barbara

.
"This is going to be a terrific night of some of the most beautiful music imaginable," said David Dallas, executive director of the BPAC. "We are so excited to be starting our season with a musical artist the caliber of Bruce Levingston."
Levingston is one of today's leading figures in contemporary music. Many of the country's most important composers have written works for him including Philip Glass, Sebastian Currier and Pulitzer Prize winners William Bolcom, David Del Tredici, George Perle and Charles Wuorinen. His Carnegie Hall and Lincoln Center world premiere performances of their works have won notable critical acclaim. The New Yorker describes him as "elegant and engaging", "a poetic pianist who has a gift for inventive – and glamorous – programming" while The New York Times calls his performances "graceful", "sensuous" and "hauntingly serene." His CD "Portraits" received international critical praise. Classics Today lauded his "transcendent virtuosity and huge arsenal of tone color" while Germany's Klassic Magazin noted his "warm playing, deep understanding and intimate, richly colored sound."
Noted for thoughtful programming, Levingston has performed and collaborated with some of the most interesting artists of our time including painter Chuck Close, actor/author Ethan Hawke, authors Michael Cunningham, Nick McDonell, and George Plimpton, composer/performers Lisa Bielawa and Philip Glass.

Levingston returns to Delta State University as Visiting Artist in the Humanities for the 2009-10 academic year. His activities will include performing concerts, lectures and master classes on campus and in the community and serving as cultural ambassador for the University.
"It is a real honor for Delta State to host Bruce Levingston as the Visiting Artist in the Humanities this year particularly since this is 'The Year of the Arts.' Bruce is not only a stellar musician of the highest caliber but his wide ranging experiences and interests will enable him to engage in meaningful ways with the entire Delta State community," said Collier Parker, dean of the College of Arts and Sciences.
Son of the late Barbara and Douglas Levingston of Cleveland, Bruce and his brother Jon co-founded the Levingston Continuing Fund in the Humanities at Delta State.
"I am deeply honored to be asked to return here as the Visiting Artist in the Humanities at Delta State. It is a place I have felt close to my whole life and to be able to give something back to it is truly a privilege," said Levingston.
Seating is limited. For ticket information contact the BPAC Box Office at 662-846-4626.