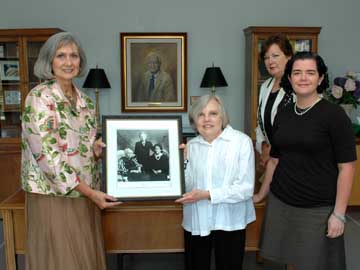 From left,

Carolyn Manning presents Delta State's Archives and Museum a rare photo of three Mississippi arts legends – Eudora Welty, Margaret Walker Alexander and Thalia Mara. Accepting the portrait are Dorothy Shawhan, Chair Emeritus of the Division of Languages and Literature, University Archivist Emily Erwin, and Dr. Myrtis Tabb, Associate Vice President Finance and Administration
Rarely does one have the opportunity to stand in the presence of greatness and witness first-hand the people responsible for shaping and motivating generations of women in Mississippi. In 1998, Eudora Welty, Margaret Walker Alexander and Thalia Mara, spent an evening in Jackson at an event recognizing the three Grande Dames of Mississippi – "Three Women…Three Lifetimes."
Delta State graduate, Carolyn Manning, a retired AT&T Regional Sales Director,
recently donated a unique portrait of the three Mississippi arts legends to the University Archives and Museum in recognition of Delta State University's role in advancing the role of women in the state, region and nation.
"I congratulate Delta State on its continued leadership role in the recognition of the accomplishments and the encouragement of ambition for women in the state of Mississippi. It is my great pleasure to present the Archives this portrait," stated Manning.
The portrait, No. 10 out of 100 produced that evening, is signed by all three.
Manning continued, "It is my hope that this photograph will inspire all women in our state to dream, to do, and to accomplish their individual ambition and destinies."
Emily Erwin, University Archivist, added, "The University Archives maintains a substantial series of collections on women of the Mississippi Delta, their accomplishments and contributions to the betterment of our local, state and national communities. Carolyn Manning's donation will enhance the Archives' mission to acquire women's collections and celebrate their dedication to the enhancement of our society."
Vice President of Finance and Administration, Dr. Myrtis Tabb recalled that Carolyn Manning was the first person to recognize the need for a professional women's conference and served in a leadership role in organizing and executing the first conferences held at Delta State University. "Carolyn Manning has been instrumental in providing leadership throughout the Delta region to growth and opportunities for professional women."
Dorothy Shawhan, Chair Emeritus of the Division of Languages and Literature and Professor Emeritus of English, stated, "Carolyn Manning's generous gift comes at a particularly good time as the current Archives exhibit features inspiring women who helped shape Mississippi. Eudora Welty, Margaret Walker Alexander, and Thalia Mara are in the vanguard of women leaders in the arts from our state. I first met Carolyn several years ago when she sat in on one of my creative writing classes. She's a fine writer and an avid supporter of all the arts, and Delta State is fortunate to be the recipient of this remarkable photograph from her personal collection."
The University Archives and Museum will incorporate the portrait into the current exhibition, "Inspiring the Next Generation: Exceptional Mississippi Women." The exhibit will be on display until Sept. 25, in the Archives' main gallery.
For more information on the exhibit, collection or to view the portrait, please contact the University Archives and Museum at (662) 846-4780 or via e-mail at
archives@deltastate.edu
.