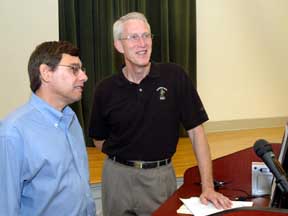 Dr. Cooper Johnson (at left), Delta State Chair, Entrepreneurship in Business Technology, and Clint Wood, Delta State Professor of Business Law, prepare for the first in a series of lectures entitled "Conversations with Entrepreneurs."
Wood was the guest speaker and he shared his insights on starting a business with students, faculty and staff by using a list of "Wisdom" that he acquired during his personal experience with the business world to teach the audience what is needed to have a successful business.
The presentation was held in the Baioni Conference Center in Broom Hall. The next presentation is scheduled for Thursday, November 12, from 12:15-1:30 in the Baioni Center.
For more information about the Chair of Entrepreneurship in Business Technology or the "Conversations with Entrepreneurs" series, contact Dr. Cooper Johnson at 662.846.4192 or email: bcjohnsn@deltastate.edu