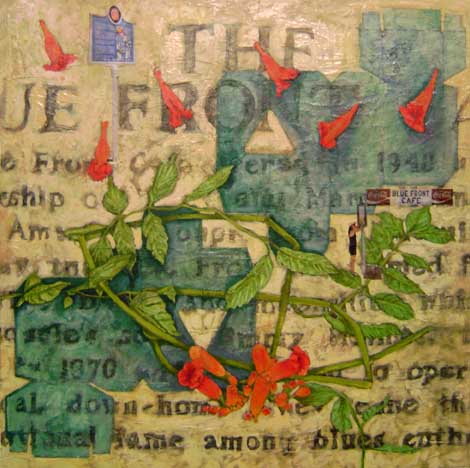 The works of Sandra Murchison, associate professor and chair of the Art Department at Millsaps College, will be featured in an exhibit in the Wright Art Center Gallery during the month of October.
The exhibit entitled "The Delta Blues Remain" will open with a public reception for the artist on Sunday, Oct. 4, from 4 – 6 p.m. in the Gallery.
Luther Brown, director of the Delta Center for Culture and Learning at Delta State, will give a talk at 4:30 p.m. on the development of the Blues Trail markers in Mississippi and Murchison will field questions about her body of work from viewers afterward.
The display includes 34 mixed media works, primarily prints and painted collages, featuring the Mississippi Blues Trail historical markers in the Delta region which the artist began working on earlier this year. Interested generally in how Americans remember and present their past, her aim here was to specifically focus on Mississippi's recognition of its own past and identity rooted in music. By re-layering images, texts, forms, and narratives in the actual forming of the works, Murchison has raised questions about what layers of understanding our state brings to its own cultural importance. Is a sense of place in Mississippi being projected or preserved? How do we decide which stories, places and events get memorialized? Which stories and people are excluded? Will we indeed honor the presence of the markers or speed past them in our fast-food, drive-through lifestyle?
Murchison received her BFA in Printmaking and Painting from Alfred University in New York State and her MFA in Printmaking from Louisiana State University in Baton Rouge.
In addition to chairing the Millsaps College Art Department, she also directs the gallery there. She has been a workshop instructor and visiting artist and lecturer around the U.S. and exhibits her work extensively.
Upcoming in 2010 will be "Mississippi Blues Trail" at Fischer Galleries in Jackson, and "Remnants" at Loyola University Art Gallery in New Orleans, LA.
The public is cordially invited to the opening reception. The exhibit will be available for viewing through Oct. 30 during regular gallery hours of Monday – Thursday from 8 a.m. -l 8:30 p.m. and Friday from 8 a.m.- 3:40 p.m..
For more information, please call the art department at (662) 846-4720.