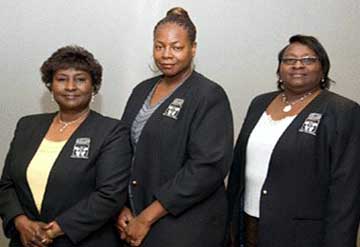 Delta State ARM staff members are from left, Lestine Rogers, administrative assistant, Carla Ross, regional coordinator, and Helen Wade, member/field support specialist
Delta State's America Reads-Mississippi (ARM) is dedicated to improving the reading skills of students, encouraging public awareness and support of literacy, and helping to increase the number of certified teachers in Mississippi.
For the 2009-2010 program year, ARM is fully recruited with 350 full-time AmeriCorps members serving in 43 districts at 89 school sites and on five university campuses. ARM is the largest AmeriCorps program in the state and the largest of its kind in the nation. Members receive a living allowance ($11,400), health care, and if income eligible, child care.
After successfully serving 1700 hours over 12 months, members earn an education award that can be used to fund college tuition and/or pay back qualified student loans. Delta State's ARM program has 50 members serving in seven counties at 19 school sites.
The ARM office is located at Delta State's Center for Community and Economic Development.
For more information, contact Carla Ross, Delta State University's ARM Regional Coordinator, at (662) 846-4812 or e-mail cross@deltastate.edu.