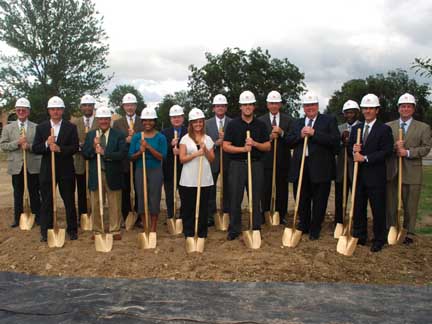 Front row, from left, State Rep. District 28 David Norquist of Cleveland; Cleveland Mayor Billy Nowell; Delta State Student Government Association (SGA) Secretary Tara Dunn of Picayune; SGA Vice President Haley Sligh of Bentonia; SGA President Taylor Miller of Duncan; Delta State University President Dr. John Hilpert; State Senator Dist. 23 Briggs Hopson of Vicksburg; (back row, from left) Institutions of Higher Learning Board Member Dr. Stacy Davidson of Cleveland; Director of Facilities Management Tommy Verdell; Vice President for Finance and Administration Greg Redlin; Vice President for Student Affairs Dr. Wayne Blansett; Statesmen Housing, LLC President Judson Thigpen; Mike Harrell of Signet-Harrell Development; Rowan Stewart of Niles Bolton Architects; and Ken Krismanth of Signet-Harrell Development prepare to break ground for a new residence hall on the Delta State campus.
Delta State University President Dr. John M. Hilpert, and Cleveland Mayor Billy Nowell, were joined by legislators and city, university, and foundation officials to break ground for a new 362-bed residence hall today at 1:30 p.m. at the corner of Maple and Washington streets on the Delta State campus.
President Hilpert opened the ceremony by welcoming those in attendance and thanking those responsible for making the event possible. "On this day we will break ground for a 362-bed residence hall that will offer new amenities to students with 21st century experiences and expectations," said Hilpert. "It has been said that home is not only where you live but also where you are understood. Next summer when we cut the ribbon for this new residence hall, we will see a beautiful building with welcoming spaces for students."
The new facility is scheduled to open in the fall of 2010 and will stand where Bond-Carpenter and Whittington-Williams halls once stood on the south side of the campus. Delta State will be the first public university in the state to use an innovative, privatized method for financing the project.
"Several months ago the Delta State Foundation was asked to be a part of this new method of funding construction on University property," said Judson Thigpen, president of the Delta State Foundation and president of Statesman Housing, LLC. "The key to moving this project along quickly is privatized funding rather than the conventional State appropriation method. Statesman Housing LLC, and the Delta State Foundation, as its sole member, is proud to be a part of this project as we seek to fulfill our mission of support for the University. The 40-member Foundation Board of Directors is pleased to play a significant role in supporting the University's efforts to recruit and retain students through the construction of the new dorm."
"I can remember coming here to baseball camp when I was 10 years old," said Rep. David Norquist, a Delta State alumnus. "The camp lasted a week and I stayed in the Whittington-Williams dorm. When my mother picked me up at the end of camp, I was still wearing the clothes I arrived in. I never unpacked. We didn't shower too often, but we went swimming every day and felt like that was good enough. I guess it's good some things change."
"The Legislature passed a bill in March authorizing universities to contract with private companies to finance and essentially become part-owners in these projects," Norquist continued. "We were also able to reduce a lot of the red tape in order to streamline these projects allowing them to get started quickly in hopes that more projects like will come in the near future."
Delta State Vice President for Finance and Administration, Greg Redlin, presided over the ceremony and provided a brief synopsis of the "Privatized Delivery" method of funding. "A private firm will complete the construction and, through a bond system, the University will manage the buildings and pledge revenue collected from student rent to pay the debt service. The residence hall is scheduled to be completed in about half the time of comparable construction projects and at a reduced cost," he explained.
"We are always excited to see our universities grow and expand to meet student needs – and ensuring our students have safe, functional spaces to live, learn and work is an important part of that process," said Dr. Stacy Davidson, Jr., member of the Mississippi Board of Trustees for State Institutions of Higher Learning. "This new residence hall is a fine example of Dr. Hilpert's creative efforts to move Delta State forward – even in the tough budget times that we face."
The new residence hall will be a three-story structure adjacent to the Young-Mauldin Cafeteria. The facility will contain 182 units accommodating 362 beds with lounges, study rooms, common kitchens, and laundry facilities on each level.