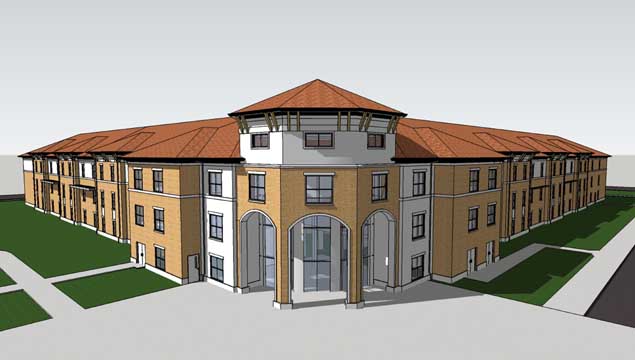 Delta
State University will host a groundbreaking ceremony for a new 362-bed residence hall on Wednesday, Sept. 23, at 1:30 p.m. at the corner of Maple and Washington streets.
The new facility is scheduled to open in the fall of 2010 and will stand where Bond-Carpenter and Whittington-Williams halls once stood on the south side of the campus. Delta State will be the first public university in the state to use an innovative, privatized method for financing the project.
According to Delta State Vice President for Finance and Administration, Greg Redlin, "A private firm will complete the construction and, through a bond system, the university will manage the buildings and pledge revenue collected from student rent to pay the debt service. The residence hall is scheduled to be completed in about half the time of comparable construction projects and at a reduced cost."
The new residence hall will be a three-story structure adjacent to the Young-Mauldin Cafeteria. The facility will contain 182 units accommodating 362 beds with lounges, study rooms, common kitchens, and laundry facilities on each level.
Redlin will preside over the afternoon program with a welcome from Delta State President, Dr. John M. Hilpert, and remarks from Cleveland Mayor Billy Nowell, Representative David Norquist, and other city and university officials.
The public is invited to attend.