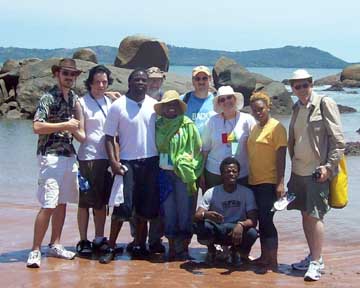 On the island of Kassa, from left – right, David Mason, Gene Kachenovich, Olu Manns, Wally Wooten, Julie Green, Larry Bradford, Karen Fosheim, Abena Seward, Alan Barton, and kneeling, Guinean drumming instructor Ballaket Cissoko
Delta State University faculty members Dr. Larry Bradford, Dr. Alan Barton, and Dr. Karen Fosheim, and students Julie Green of Clarksdale, Gene Kachenovich of Olive Branch, David Mason of Tupelo, and Abena Seward of Cleveland Heights, Ohio, and community members Wally Wooten of Shelby, and Olugbala Manns of Kent, Ohio, recently spent 30 days studying traditional African drumming, dance, and local culture in Guinea, West Africa.
Members of the group will give a multi-media presentation of their experiences and impressions from Guinea Thursday, Oct. 1, at 2 p.m. in the Recital Hall of the Bologna Performing Arts Center.
The presentation is free and open to the public. For more information, contact Karen Fosheim at (662) 846-4622.
On the way to Guinea, the group spent a weekend touring the beautiful city of Paris, France.
While in Guinea, the group stayed in a private home in the capital city of Conakry, a city of two million people. Also they spent several hours each day in drum and dance classes. Master Guinean drummers Amara Camara, Sekou Sano, and Ballaket Cissoko taught drumming and Salimatou Camara and the famed Yamousa Souma, former dancer with Les Ballets Africains, led the group in dance classes. Ishmael Camara taught some of the participants the balafon, a xylophone-like West African instrument. The Americans were also special guests at performances by Les Ballet Merveilles des Guinea, the popular Guinean group Les Etoiles de Boulbinet, and master drummer Sabou Njouma. The group attended several other concerts and dundunba festivals around the capital city.
On the weekends, the group took excursions to the islands of Kassa and Roume off the coast of Conakry and to the beautiful mountain region of Kindia. Other highlights of the trip included shopping at several outdoor markets in Conakry, including the massive Medina market; a tour of the military compound that houses the offices of the president and vice president of Guinea; an afternoon at the beach in Conakry; and visits to purchase djembes from some of Conakry's master drum makers.