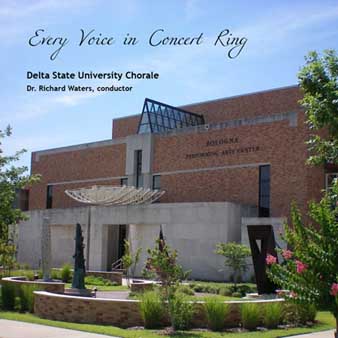 The Delta State University choral program, under the direction of Dr. Richard Waters, announces the release of their fifth compact disc entitled "Every Voice in Concert Ring," recorded by the Delta State Chorale.
The recording features music by a wide variety of composers, including David N. Childs, Morten Lauridsen, Norman Luboff, Igor Stravinsky, Frank Ticheli, and Eric Whitacre.
The choir is accompanied on several pieces by Dr. Kumiko Shimizu, and also features the Delta State Steel Band, led by Dr. Larry Bradford.
The CD, which was recorded and mastered by the Delta Music Institute (DMI), features several pieces from a February 2009 recording session in Kent Wyatt Hall, as well as other selections recorded live in concert in the Bologna Performing Arts Center from 2008 and 2009.
Proceeds from the sale of these recordings will go towards the upcoming choir trip to Austria and the Czech Republic. The cost of each CD is $15 plus shipping. Cash and checks are accepted. Copies are available at all Delta State choir concerts, or may be ordered online from the choir's website at http://choirs.deltastate.edu.
For more information, contact Dr. Waters at (662) 846-4115 or e-mail rwaters@deltastate.edu.