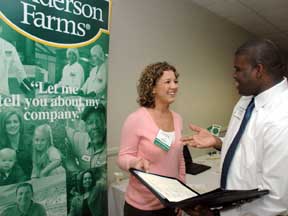 Haley Hester (at left), with Sanderson Farms in Laurel, talks with Delta State University student Amario Cole, a computer information systems major from Tupelo, about employment benefits.
Sanderson Farms was among about 21 businesses participating in the recent Fall Business Career Fair sponsored by Delta State University Career Services. About 400 Delta State students took advantage of having many employers to discuss employment with in one area
A quote from an employer stated "This was an exceptional career fair! It was very well organized and planned, making it easy to focus on the students."
The Fall Business Career Fair was held in Broom Hall, home of the Delta State University College of Business.