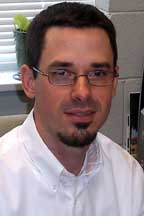 Dr. John J. Green, Chair of the Division of Social Sciences and associate professor of sociology and community development at Delta State University, was recently presented the Excellence in Extension and Public Outreach award during the Rural Sociological Society's (RSS) annual meeting held in Madison, Wisconsin.
Green is also acting Chair of the Delta State Department of History.
The Rural Sociological Society is a professional association of social scientists dedicated to the generation, application and dissemination of sociological knowledge for the purpose of improving quality of life.
The Excellence in Extension and Public Outreach award was given in recognition of Green's leadership in the Institute for Community-Based Research, a collaborative effort between the Delta State University Division of Social Sciences and the Center for Community and Economic Development. The Institute works with students and nonprofit organization throughout the Mississippi Delta region, and on the Gulf Coast, to conduct and utilize research to inform community sustainable development initiatives.
Upon receiving the award, Green recognized his family, current and former students, staff, and the many colleagues of the Institute who were in attendance at the RSS awards luncheon. He made particular note of Dr. Anna Kleiner, assistant professor in the Department of Sociology and Criminal Justice at Southeastern Louisiana University, a fellow graduate of his from the University of Missouri-Columbia doctoral program in Rural Sociology.
Kleiner has been a major partner of the Institute since it was founded in 2002.
Southeastern Louisiana, Michigan, Chicago, Washington, D.C. and other Institute partners working in the Mississippi Delta, were recognized for their contributions to the work of the Institute.