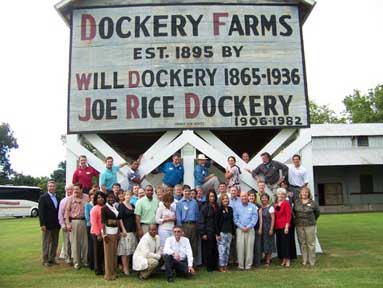 The Delta State University Delta Center for Culture and Learning recently held a cultural heritage tour for a group of 46 emerging leaders from across the state.
Prior to the tour, participants attended a three-day workshop at Delta State
The purpose of the tour was to help the current Leadership Mississippi cohorts better understand the rich cultural heritage of the Delta.
The tour highlights included stops at Dockery Farms, Mound Bayou and Po' Monkey's Lounge followed by a return trip back to campus to view sculptor Sharon McConnell's collection of Blues musician's life masks located at the Delta Center.
The group ended their day with a reception at the B. B. King Museum and Delta Interpretive Center in Indianola.
Bolivar County Administrator Will Hooker, a current member of Leadership Mississippi, served as the local host for the group, and Dr. Michelle Roberts, Vice President for University Relations at Delta State, and an alumnus of the Leadership program, facilitated their meeting on the campus.
For more information about the Delta's heritage, contact the Delta Center at (662) 846-4311.
Photo Identification: Gulf coast businessman and Republican gubernatorial candidate David Dennis (far left) an alumnus of the Leadership program accompanied workshop participants on their tour.