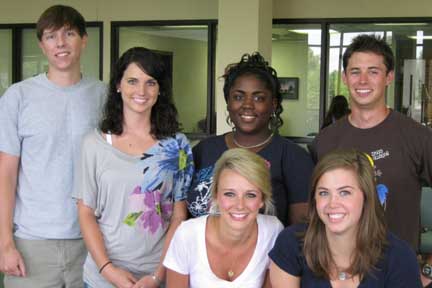 The Delta State University Student Alumni Association (SAA) recently announced its new officers for the up-coming 2009-2010 academic year.
The Student Alumni Association

,

under the direction of Liza Jordan Vaughn

,

exists as a student–based extension of the Delta State Alumni Association.
This diverse group is dedicated to providing programs and services for current Delta State students that will foster a connection to the Delta State University Alumni Association, as well as promote the interests of and understanding between Delta State University, students-past, present and future.
The new SAA officers have been hard at work planning new and exciting activities and functions for this year

,

along with many traditional events

,

such as Pig Pickin', Homecoming and survival kits to students during exam week.
Photo Identification: The new SAA officers are: (front, from left) Katie Morrison of Yazoo City, secretary; Becca Alford of Senatobia, vice president; (back, from left) Deniger Cobb of Alligator, treasurer; Lacie Horn of Cleveland, historian; Vanessa Washington of Greenville, projects chairman; and Ryan Hart of Yazoo City, president.