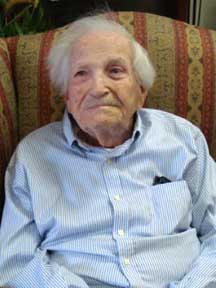 Roy Lee Wiley, born one of five children in Forney, Texas on June 7, 1907, celebrated his 102nd birthday in Greenville this year.
Wiley and his wife, Clara Belle, moved from Missouri to Delta State University in 1942 where he accepted a position as associate professor of physics and retired in 1975.
He taught physics, astronomy, electronics and radio during his thirty-three years as a faculty member. In 1980 the planetarium located in Walters Hall at Delta State University was dedicated to Roy and Clara Belle and was named the Roy L. and Clara Belle Wiley Planetarium.
Wiley and Clara Belle were wed in Missouri on June 7, 1936 and were married until her death on May 25, 2001. He has two children, four grandchildren and three great-grandchildren.
Roy Wiley will be honored at a birthday party on Wednesday, July 22, from 2 – 3:30 p.m. at the Hugh Ellis Walker Alumni-Foundation House.
Family and friends are invited to attend. If you would like to send an e-mail birthday wish please do so at
foundation@deltastate.edu
.