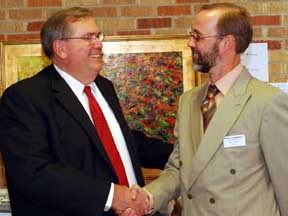 Delta State University President Dr. John Hilpert (at left) and Executive Director for Teach For America, Mississippi Delta, Ron Nurnberg congratulate each other on the news that Delta State University will host the eighth institute for Teach For America in 2010
Delta
State University was selected as a finalist in May, along with a university in Denver, Colorado, to host the 2010 Teach for America Charter Summer Institute. Delta State will be the first and only institute located in a rural area.
Approximately 160 corps members are currently teaching in the Delta region which stretches some 150 miles from Forrest City, Arkansas in the north, to Greenville, Mississippi in the south.
Delta
State
will host approximately 800 participants for eight weeks of intensive teacher training in the Summer of 2010.
"The Cleveland-Bolivar County Chamber of Commerce is overjoyed with the news of Delta State University's selection as the site for a Summer Training Institute," said Chamber Executive Director Judson Thigpen. "While there will be a tremendous economic boost to our local economy, more importantly, our children will be positively impacted by the influx of teachers to our region. Having well educated students translates into a workplace-ready labor force and better opportunities to recruit businesses to the region."
"The Cleveland School District congratulates Delta State University on being selected to host the Teach for America Institute," said Dr. Jackie Thigpen, Superintendent of the Cleveland School District. "This is an excellent opportunity for the schools in the Delta to obtain highly qualified teachers. It is our hope that once they see what small communities have to offer, thatwe can retain the majority of these teachers in the Delta."
TEACH FOR AMERICA SELECTS the DELTA AS
newest teacher TRAINING SITE
More Than 500 Teachers Will Train at Delta State University, Starting Next Summer
CLEVELAND
, Miss., July 14, 2009
—Teach For America announced today that it will open its first Mississippi Delta teacher training institute at Delta State University in June 2010. The Delta institute will be the eighth Teach For America training location and the first in a rural area, joining Atlanta, Chicago, Houston, Los Angeles, New York City, Philadelphia, and Phoenix. Teach For America is the national corps of top recent college graduates who commit to teach for at least two years in urban and rural public schools and become lifelong leaders in expanding educational opportunity.
"Delta State University is proud to host Teach For America's training institute and to welcome its corps members and staff to our community," said Delta State University President John Hilpert. "We look forward to helping prepare these bright young people to be outstanding teachers in the Delta and in the many other regions where Teach For America is helping to close the achievement gap."
Teach For America's institute prepares corps members to be effective teachers while they work under the close supervision of veteran educators and Teach For America staff to measurably increase the academic performance of students in summer school classrooms. During their institute training, corps members complete interactive courses and clinics to build knowledge, deepen skills, and apply their learning in the classroom. Corps members attending the Delta institute will teach in summer school programs across at least 14 area school districts while living at and attending courses at Delta State University.
"I'm incredibly excited about this partnership with Delta State University and local school districts, which will give our corps members the opportunity to begin their teaching experience here in the Delta," said Ron Nurnberg, executive director of Teach For America in the Mississippi Delta. "This partnership would not have been possible without the deep commitment of our visionary state superintendent, Hank Bounds, and the 14 district superintendents who will welcome our teachers into their schools. We're also grateful for the leadership and dedication of Dr. Hilpert and his staff at Delta State, who have been passionate about working with us to create a rigorous training program that will benefit the Delta's students and set our teachers up for success."
Teach For America has been placing teachers in the Delta since 1991. The organization is tripling the number of new teachers it brings to the area compared with last year, as 275 corps members arrive this month. The Delta will see the biggest increase in incoming corps members of all Teach For America regions. These teachers are part of a national corps of 4,100, the largest incoming class in Teach For America's history.
"Having a Teach for America training institute in the heart of the Mississippi Delta is an invaluable resource for improving education in our state's neediest areas," Governor Haley Barbour said. "I appreciate Teach for America choosing Delta State University to house this program. It will complement the outstanding educational programs already in place at Delta State."
"Teach For America is a vital part of Mississippi's efforts to give every child an excellent education, and I am thrilled that the Delta will now be a part of Teach For America's teacher training program," State Superintendent of Education Hank Bounds said. "This rigorous summer program will accelerate our students' learning and growth while preparing corps members for the challenges they will face as teachers in schools across the country."
Beyond their corps commitments, Teach For America alumni continue to advocate for children and families in low-income communities as public school teachers, principals, and leaders across all professional fields. Two-thirds of the nearly 17,000 Teach For America alumni across the country are working full-time in education, and one-third continue as excellent classroom teachers. Some 380 Teach For America alumni serve as school principals or superintendents, more than 500 work in government or policy, and more than 25 serve as elected officials.
Teach For America is the national corps of outstanding recent college graduates who commit to teach for at least two years in urban and rural public schools and become lifelong leaders in expanding educational opportunity. This fall, 7,300 corps members will be teaching in 35 regions across the country while 17,000 Teach For America alumni continue working from inside and outside the field of education for the fundamental changes necessary to ensure educational excellence and equity. For more information, visit www.teachforamerica.org.
About Delta State University
Delta State University offers undergraduate and graduate education to more than 4,000 students annually on its campus in Cleveland, Mississippi. Service to the 18 county region known as the Mississippi Delta has always been at the heart of Delta State University's mission. Originally chartered as a teacher training school in 1924, Delta State's curriculum has evolved to include a full range of traditional business, education, and arts and sciences majors. Also, among the university's offerings are specialized programs in nursing, commercial aviation, athletic training, and the music, technology, and business aspects of the recording industry. With the goal of being "the best regional university in America," Delta State provides education not only on the campus but also through more than 100 partnerships the university has established and maintains with the school districts, healthcare providers, public/government entities, and private sector organizations of the Mississippi Delta. It is a dynamic learning and service environment for students, faculty, and staff.
# # #
Support For Teach For America's Delta Training Institute
During the site-selection process for Teach For America's eighth training institute, many area leaders expressed support for the Delta's candidacy.
Sen. Thad Cochran
"Having the training institute at Delta State University underscores Teach For America's commitment to serving rural and urban students. It will foster rigorous summer school programs in nearby school districts and give the trainees a better perspective of the realities they will face in the classroom. In Cleveland, Teach For America will find a model host for this program, and the region will benefit from direct access to such an academic asset."
Sen. Blanche L. Lincoln
"Should Teach For America choose the Delta for their 2010 institute, students in the Delta region would benefit from a rigorous summer school program with individual student attention that cannot be achieved in a traditional classroom setting. Better-educated students will bring economic opportunities to the region. There will also be an immediate economic impact created by 850 new teachers and staff added to the local economy over a two-month period."
Sen. Roger F. Wicker
"Delta State's selection as a host site represents the first Teach For America institute located in a rural area of the United States. With locations in urban areas, such as New York, Chicago, and Los Angeles, I firmly believe a partnership with Delta State will be beneficial to all parties and expose incoming teachers to the unique challenges of rural Mississippi. I have complete confidence in Delta State President Dr. John Hilbert and his staff to provide Teach for America staff and new corps members outstanding facilities and a meaningful training environment."
Lt. Gov. Phil Bryant
"Teach For America members represent the caliber of teachers and people that communities in our Delta region would embrace. They all have demonstrated high levels of past achievement in academics, extracurricular activities, and/or work and family responsibilities. Bringing more of these bright individuals to the Delta—where some of the country's most vulnerable citizens live—through the establishment of an institute would make an enormous difference for our students and our state."
Rep. Marion Berry
"For our country to remain competitive globally, investing in education is no longer an option, it is a necessity. Teach For America's summer institute will provide dozens of Teach For America corps members that will be working in the Delta of Arkansas with the skills they need to provide students with high-quality education and the tools they need to succeed in life. I commend their commitment to expanding and enriching the minds of young people and their dedication to such an honorable profession."
State Rep. Cecil Brown
"Teach For America teachers from across the United States have testified in our committee meetings with the kind of passion, intelligence, and perseverance that we absolutely need in our schools."
State Sen. F. Videt Carmichael
"As a former educator and current chairman of the State Senate Education Committee, I know all too well that, while some of our schools are doing quite well, others are facing numerous problems including a lack of quality leaders and teachers. I have spoken to several of Teach For America's currents teachers and alums, many of which have decided to stay in Mississippi long past their two-year commitment. All of them have proven to be impressive young people that I am convinced are capable of helping to turn around even our worst-performing schools. A Teach For America institute would relocate more of these young people to the Mississippi Delta, home to some of America's most vulnerable populations, which would be invaluable to our students and our state."
James B. Randall III, President and CEO, Planters Bank and Trust Company
"The Teach For America Delta teachers have done more to change the lives of our Delta students than can adequately be measured. They have reached out to these kids with not only classroom knowledge but also personal relationships that are deep and caring. I sincerely implore that Teach For America go deeper in its commitment to this region by making the commitment to establish this summer training institute in our area. Our gratitude as well as the rewards of what this could mean cannot adequately be expressed on paper but rather though the changed lives of our young people."