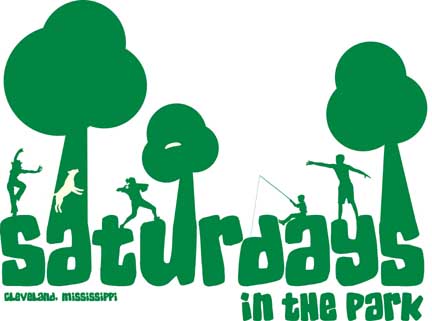 "Saturdays in the Park" will make its return to Cleveland in August with event organizers confirming six other events planned for the 2009-2010 calendar year.
Heat forced the postponement of the two previously-scheduled Saturdays, but still inspired by what event organizers called "awesome" support for the debut happenings, the "Saturdays in the Park" planning committee recently released its upcoming fall slate.
A pet and pet care-themed Saturday is now scheduled for Saturday, August 29 at Amzie Moore Park from 8 a.m. – 11 a.m.
In September, the group will return to Bear Pen Park for another outdoor-themed event. Scheduled for Saturday, Sept. 26, activities will run from 10 a.m. – 2 p.m.
A Halloween-themed arts, crafts and dance Saturday will conclude the group's fall offerings. Set for Saturday, October 31 at Fireman's Park, activities will begin at 4 p.m. and wrap up at 8 p.m.
"We were, of course, disappointed. We never wanted to postpone our event but this Delta heat is just too dangerous to ignore. When an experienced certified athletic trainer tells you, it's a red-flag day, you should listen and we did," Saturdays in the Park Chair Dr. John Alvarez offered.
"What we hope the public understands is that we didn't suspend our programming, we have simply postponed. Come the last Saturday in August, we are going to be right back out there offering this community a great day with the family at our parks," Alvarez added.
A spring schedule will bring events to Cleveland's park system in March, April and May.
"We've yet to determine those day's themes, because we are working hard to plan and execute our fall schedule, but we've got some different ideas being batted around right now. We are always open to others and we hope those that are really interested in seeing this program continue to grow and work will reach out to us and share their ideas," Saturdays in the Park Co-Chair, Rori E. Herbison said.
A collaborative effort between Delta State University's College of Education and its Health, Physical Education & Recreation Department and Division of Family & Consumer Sciences, the Center for Community and Economic Development and the School of Nursing, in cooperation with Cleveland School District, Cleveland Park Commission, Cleveland-Bolivar County Chamber of Commerce and the Leaders of Delta Health & Wellness, "Saturdays in the Park" is a free program, offered to all in the community.
For more information on "Saturdays in the Park," please contact the Department of Health, Physical Education & Recreation at (662) 846-4555 or the Cleveland Park Commission at (662) 846-6605.