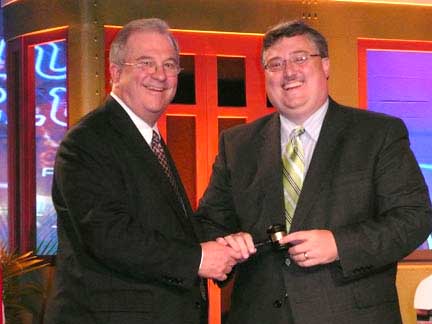 AGA Executive Director Relmond Van Daniker (left) DBA, CPA. hands over the gavel to Morehead
Billy Morehead, Ph.D., CGFM, CPA, Chair of Accountancy, Computer Information Systems, and Finance at Delta State University, was recently elected the 60th National President of the Association of Government Accountants (AGA) with a presidential theme of "Think Big! Act Courageously! Make a Difference!"
Morehead has been dubbed the "Education President" for several reasons. The obvious one is because of his background and current position in academia. The next is he has selected "Education" as the primary focus of his residency. Morehead has created an "Education Taskforce" to review the many educational items AGA has in its collection of offerings. He is the first Mississippian and the first person from Academia to serve as AGA National President.
The Association of Government Accountants (AGA) is the premier Association in advancing government accountability. AGA supports the careers and professional development of more than 15,000 government financial professionals working in federal, state and local governments as well as the private sector and academia. AGA offers certification through its Certified Government Financial Manager (CGFM) examination – a certification widely recognized throughout federal, state, and local governments and private sector accounting firms with a government financial management focus.
Founded in 1950, AGA now has 100 chapters, primarily throughout the U.S.; but, AGA also has a few chapters around the world including Germany, Japan, Guam, Saipan, and Puerto Rico. AGA has a long history as the thought leader for the government accountability profession. Through education, research, publications, certification and conferences, AGA promotes transparency and accountability in government.
AGA offers national conferences including one on Internal Control & Fraud, Performance Management, National Leadership, and Professional Development. AGA offers a variety of other educational, training, and audio conferences. AGA conducts applied research through its Corporate Partners Advisory Group and conducts empirical research through the Academy for Government Accountability. The Education Taskforce will review the many educational products and services to ensure AGA's leadership and efficiency in each area. The taskforce will also explore the role AGA should play in the accountancy faculty shortage; and, whether AGA should publish textbooks in the areas government financial management and public administration.
Morehead has been involved in AGA in many ways and at many levels throughout his 25-year career in state government and academia in Mississippi. He became an AGA member in 1986 while working at the State Auditor's Office. He served in several chapter leadership roles including Chapter President in 1989 when the Jackson Chapter celebrated its 15th anniversary.
He served as National Treasurer from 1995 to 1996, Regional Vice President of the South Central Region from 1996 to 1997, and Senior Vice President for Section II from 2001 to 2004, and, he is presently on his third term of service on the National Executive Committee.
Morehead chaired the 1997 State and Local Conference Technical Planning Committee, the Chapter Recognition Committee, and the International Development Committee and he has served on the Ethics Board and the Finance Committee. Now, at the pinnacle of his state government and academic career, now he has the amazing opportunity to serve as AGA's 60th National President.
Morehead has received several awards from AGA including the National Educator Award in 2007 and Presidential Awards in 1998 and 2007.
He has 25 years of government financial management experience in the state of Mississippi. He has been at Delta State University since the fall of 2000 and in 2007 became the Chair of Accountancy, Computer Information Systems, and Finance and Assistant Professor of Accountancy. He has served Delta State in other roles including Vice President for Finance and Administration and Interim Dean of the College of Business.
Prior to his work at Delta State, he worked for the Mississippi Department of Mental Health (DMH) for 10 years as the CFO of two state hospital facilities. Before DMH, Morehead worked with the Mississippi Department of Finance and Administration and the Mississippi State Auditor's Office early in his state government career.
During a one-year leave of absence (Oct. 1998 through Oct. 1999), Morehead and his wife, Audrey, were International Service Corps Volunteers in Dakar, Senegal, West Africa where he served as Financial Facilitator for the International Board covering four countries. He also performed financial and compliance audits for the International Board in other West African countries.
Morehead graduated with a Bachelor of Business degree in Accounting from Delta State University in 1984, a Master of Accountancy degree from Millsaps College in 1995 and a Ph.D. in International Development from the University of Southern Mississippi in 2007 where his dissertation was entitled "Internal Control and Governance in Non-Governmental Organizations Designed to Provide Accountability and Deter, Prevent and Detect Fraud and Corruption." He is a Certified Public Accountant, Certified Governmental Financial Manager and Certified Public Manager.
To find out more about the Association of Government Accountants, please visit AGA's website at
www.agacgfm.org
.