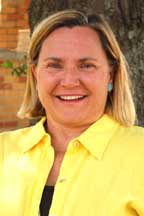 Draughon McPherson, registered dietitian of Indianola, was among the national leaders of the American Dietetic Association (ADA), who were selected to attend its sixth Leadership Institute, held June 11-14 in Dallas, Texas.
McPherson is a part-time instructor of nutrition/dietetics in the Delta State University College of Education's Division of Family & Consumer Sciences and consultant at the Good Samaritan Health Center in Greenville. McPherson received the "Emerging Dietetic Leader Award" for the Mississippi Dietetic Association in April.
Participation in ADA's Leadership Institute, an intensive certificate training program in the theory and practice of leadership in dietetics, is limited to fewer than 300 of ADA's more than 70,000 members throughout the country. "The Leadership Institute" is part of the American Dietetic Association's mission to empower members to be the nation's food and nutrition leaders. This meeting supports ADA's commitment to its members and ensures that they further develop the skills that can help them lead within ADA, as well as in their own places of employment," said ADA President Jessie M. Pavlinac.
McPherson has a B.S. in Food, Nutrition and Dietetics from Mississippi State University and a M.Ed. in Allied Health Science Education from Vanderbilt University. The predominant focus of her career is Community Nutrition and Nutrition/ Science Education.