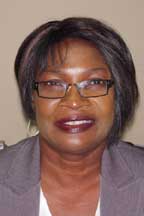 Carlisla Johnson, program associate at the Center for Community and Economic Development's AmeriCorps*VISTA Program at Delta State University, has completed the requirements
for a certified training professional through The University of Southern Mississippi Workplace Learning and Performance Institute's Training and Development Certificate Program.
National and local chapters of the American Society for Training and Development (ASTD) develop, validate, and manage the Training and Development Certificate Program. The content of the program is based on ASTD research that identifies 35 areas of competency for human resource development professionals.
Benefits of the program include: the exposure to new ways of delivering and developing training, the exploration of new models for creating and delivering content through technology, the opportunity to network with other training professionals, and the chance to update skills and knowledge of the training industry. In addition, the Training and Development Certificate Program is a Microsoft-authorized "Train the Trainer" course, which is a requirement for Microsoft Certified Trainer (MCT) status.
"This course has opened a whole new world of training, confidence, creativity and a desire for me to share the skills and knowledge with others," states Johnson. "Through the process of acquiring the certification, my existing skills have been sharpened, while emerging skills were tweaked and fine-tuned which has increased my ability to successfully transfer knowledge in training."
To attain certification, a participant must attend four three-day sessions over a four-month period and complete out-of-class learning activities. The 12-day program allows for immediate transfer of knowledge to the trainer's job roles and daily tasks. Employees representing more than 50 corporations from 10 states have completed the program.
Dr. Heather Annulis, associate professor of Workforce Training and Development at The University of Southern Mississippi, serves as the coordinating director for the Training and Development Certificate Program.