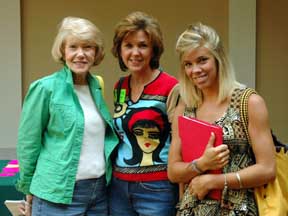 From left, Peggy Leigh, a 1954 Delta State student, her daughter Jennine Ramage, a 1978-80 DSU student, and granddaughter Jenna Ramage, a transfer student entering Delta State University, go through registration for transfer student orientation held recently at Delta State.
Jenna will make the third generation of the family to attend Delta State. She is entering as a pre-pharmacy major. All three, mother, daughter and granddaughter, are from Hernando.
Delta State University offers an extensive orientation program each summer for new students enrolling in the fall. Sessions for entering freshmen and transfer students, who have been admitted to the university, and parents of first-time students, are held in June and July. Freshman students and parents attend a two-day program, while transfer students and parents attend for one day only.