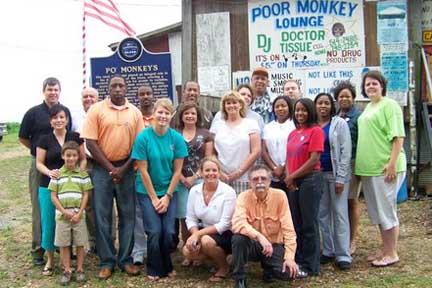 Leadership academy tour participants
The Thad Cochran Center for Rural School Leadership and Research recently sponsored a Delta heritage tour for participants in its Educational Leadership Program.
Thomas R. Taylor, masters' program coordinator, and Dan R. McFall, specialist program coordinator, accompanied the group as they made stops at Dockery Farms, Ruleville, Cleveland, and Mound Bayou, where they learned about the birth of the Blues, Robert Johnson's deal with the devil, Fannie Lou Hamer's civil rights leadership, World War Two prisoner of war camps, historic Mound Bayou and the Taborian Hospital, and Po' Monkey's Lounge.
The tour was presented by the Delta State University Delta Center for Culture and Learning. For more information about heritage tours call the Delta Center at (662) 846-4311.