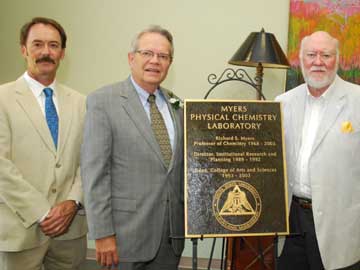 From left: Dean, Delta State University College of Arts and Sciences Collier Parker, Dr. Richard Myers, and Chair Emeritus, Department of Physical Sciences and Professor Emeritus of Chemistry Dr. Henry Outlaw
The Physical Chemistry Laboratory at Delta State University was recently named in honor of Dr. Richard S. Myers, whose tenure at Delta State extended over three decades.
A former Dean of the College of Arts and Sciences, Myers also served the University as Professor of Chemistry and Director of Institutional Research and Planning. He holds degrees in chemistry from Mississippi College, Louisiana State University and Emory University and advanced study at Harvard University.
Myers has presented 28 scholarly papers and has published 15 articles in scientific journals. His recently published book is "Creation – Answers from the Bible and Science." In 1988, the Mississippi Section of American Chemical Society named him "Outstanding Mississippi Chemist."
Myers and his wife Harriet have two children and five grandchildren. His wife, children, and children-in-law have earned nine degrees at Delta State University, with an additional degree in progress. His son, Richard Myers, Jr., is a 1991 graduate and serves on the Delta State University Alumni Board of Directors. His daughter, Rachel Myers Gaines is currently working on her doctorate at Delta State University. Dr. and Mrs. Myers retired in 2003, and reside in Collierville, Tennessee.