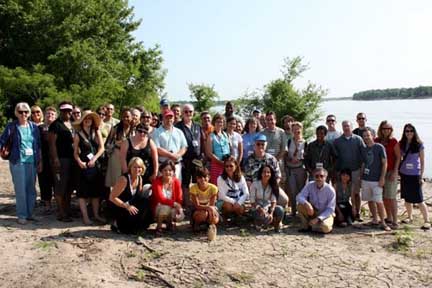 Workshop participants at Mounds Landing near Scott where the levee broke on April 21, 1927, creating the great flood that destroyed much of the Delta.
The Delta State University Delta Center for Culture and Learning recently held its second national workshop of the summer entitled "The Most Southern Place on Earth: Music, History and Culture of the Mississippi Delta."
The workshop which is funded by the National Endowment for the Humanities attracted forty-one participants from across the country and beyond, with one participant coming from Lesotho and one from Saipan. Another intended to come from Jordan but was delayed by visa problems.
One hundred and fifty people applied for positions in the workshop, which lasted for six days.
Participants visited Greenville, Indianola, Sumner, Money, Scott, Ruleville and Memphis, among other places.
For more information about the Delta Center's workshops, call (662) 846-4311.