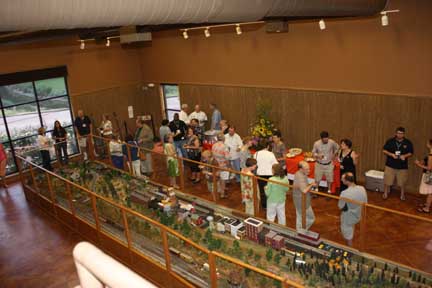 Opening reception at the Martin and Sue King Railroad Museum in Cleveland
Forty teachers from across the United States participated in a workshop on Delta heritage during the week ending June 20. The workshop was funded by the National Endowment for the Humanities, and was entitled "The Most Southern Place on Earth: Music, History and Culture of the Mississippi Delta."
The workshop was presented by the Delta State University Delta Center for Culture and Learning and was led by Center staff Luther Brown and Lee Aylward.
The workshop also featured guest presentations by Dr. Charles Regan Wilson, "Religious Heritage of the Delta," Dr. David Evans, "Blues Heritage," Charles McLaurin, "Civil Rights Heritage," Dr. John Byron Strait, "The Great Migration," and several Delta State faculty members were presenters as well.
Curriculum planning sessions were led by Delta State faculty members Dr. Leslie Griffin and Dr. Jenetta Waddell. Delta State Historians Michelle Johansen and Stella Prewitt assisted throughout the workshop, and Allen Mitchell, Shelley Collins, Henry Outlaw, and Marilyn Schultz provided special lectures on the Blues, the Emmett Till murder, and the novel "To Kill a Mockingbird."
Delta State University President Dr. John Hilpert, Provost Ann Lotven, and VP for Finance Greg Redlin, along with Chamber representatives Bootsie Lyon, Cheryl Line, and other community members welcomed the visiting faculty.
Almost 300 teachers applied to attend this workshop. Another similar workshop will be presented in July.