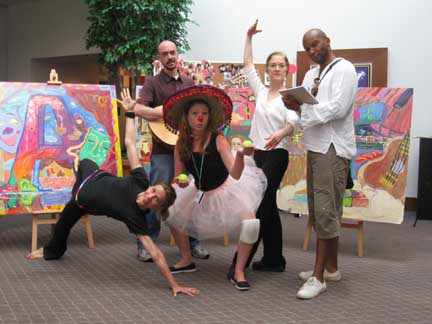 Summer Arts Institute instructors Karen Montanaro (from left), Vince Johnston, David Matthews, Christina Ross, and Keith Porteous display their skills at the Bologna Performing Arts Center on the Delta State campus
Students participating in the Janice Wyatt Summer Arts Institute in the Bologna Performing Arts Center on the campus of Delta State University are experiencing all of the arts and from all over the world.
Stage combat, mime, dance, acting, and songwriting are just a few of the skills being learned by students participating in the Janice Wyatt Summer Arts Institute at Delta State University. Student 12-18 years old are taking part in the Core Arts portion of the Institute in the Bologna Performing Arts Center (BPAC).
Institute participants receive wide-ranging and intensive instruction in a variety of art forms. However, it may be the unique training provided by an international ensemble of instructors that makes this year's program unique.
"We are very excited about this year's program and the instructors we are so fortunate to have brought to the campus," said David Dallas, executive director of the BPAC. "Having an international group of instructors with unique skills and training methods builds such a creative learning atmosphere for our students."
Christina Ross agrees. An actress from New York, Ross teaches clowning, beginners acting, and stage combat.
"It is an oasis of creativity, artistry, and talent. It has opened my eyes to see how much culture exists below the Mason-
Dixon Line," said Ross. "Mississippi is the last place I would have expected to discover it – yet here at Delta State there is an outpouring of creative talent – of youth without the boundaries of race, inhibition, or fear."
Vince Johnston, songwriting instructor from Brazil and brother of Delta State pottery teacher and Summer Arts instructor, Ky Johnston believes the variety of art forms students are exposed to is an important aspect of the program.
"The variety of arts taught at the camp will help broaden their ideas on what they can experience and express through art," said Johnston. "I wish I had a camp to go to like this when I was young. I think the staff did a wonderful job of pulling together an interesting faculty."
Keith Porteous, a yoga instructor from New Orleans, and Karen Montanaro, a dance and mime instructor, from Maine agree that it is the students that make the program so exciting.
Montanaro visited the BPAC two years ago as part of the Kossman Arts Pass Program and was eager to return for the Core Arts Summer Program. She also performed a mime program workshop for the entire Summer Arts student group as well as interested community members, where she challenged the students to be "continuously curious." She points to the great attitude and hard work of the students participating in this year's program. "They are a joy."
According to Porteous, the students seem to come from a range of backgrounds but who share a genuine interest in learning.
"I teach yoga at the camp, which is a new discipline for all of them. In each class, I find them open-minded and hard working, willing to accept new practices like balancing, which hones their ability to concentrate. Their open-hearted attitude, graceful progress, and dedication inspire me," Porteous explained.
A writing instructor from London, David Matthews is impressed not only with the students but also the facilities.
"If only we had this sort of thing in England! The fact that Delta State is able to put on the camp year in and year out is superb. The combination of facilities, location and an especially really cool staff and students makes it rewarding experience both for students and visiting faculty." said Matthews. "Hopefully, this is the start of a beautiful friendship."
Tracey Swafford of Cleveland, whose daughter is participating in the camp for the first time, was taken aback after having met the faculty for the Core Arts program. "I never realized this was here in our town and I am telling everyone about it. This is a great camp."