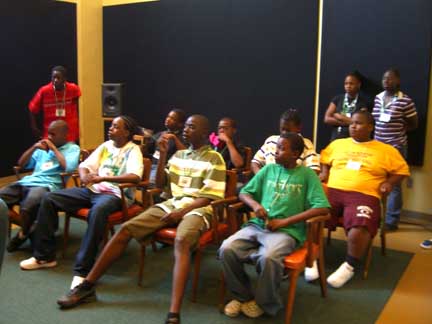 Student campers from left to right, first row, Bernard Smith, Xavier Billups, Bruce Smith, Jarrius Carter, second row George Briscoe, Darrell Johnson, Devonte Burks, Jermillius Nicholson, Oliver Washington, De'Jone Hubbard, and Crystal Ray
The Delta State University Delta Center for Culture and Learning recently hosted the first of three residential camps for rising eight graders on the campus.
The camps are funded by the Institutions for Higher Learning through the Gear-Up Mississippi Program. The program entitled the "Mississippi Delta Arts and Heritage Summer Experience" focused on the Delta's geography and the Mississippi River.
During the week, the students visited Delta State's Delta Music Institute (DMI), where Tricia Walker, executive director, gave the students a tour and let them listen to the new music console.
They also, visited the Tunica River Park and rode the Tunica Queen riverboat, and toured the B.B. King Museum and Winterville Mounds. As art projects, they made paper mache masks under the direction of Delta State artist Pat Brown. Numerous visiting speakers talked about different aspects of the Delta's culture heritage and encouraged them to plan on attending college.
Students from schools in Inverness, Forest, Grenada, Ruleville, and Moorhead participated in the first camp.
The next two camps scheduled for June 21-26 and June 28- July 3, will focus on the blues and civil rights. For more information, contact LaKendra Jones in the Delta Center at (662) 846-4311.