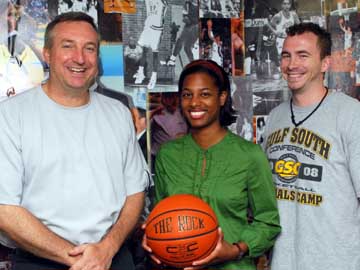 Delta State Men's Basketball Head Coach Jason Conner, tournament organizer and B.E.E.P. volunteer Miranda Walker, and Delta State Assistant Men's Basketball Coach B.J. Ellis
Delta State University's Center for Community and Economic Development is hosting a 3 on 3 basketball tournament to benefit the Breast Education and Early-Detection Project (B.E.E.P.) on the July 18-19 weekend in Walter Sillers Coliseum.
This tournament is open to all teams within the Delta area. Each team will be guaranteed at least two games. Teams are allowed up to four players and games will be played half-court. Leagues will be broken down by gender and age, 10 and under, 11-12, 13-14, 15-16, 17-18, and 18 plus.
Registration will be held at the Center for Community and Economic Development at 1417 College Street starting Wednesday, July 1 and ending Wednesday, July 15.
To register, please fill-out one registration form per team along with waivers for individual players. The registration fee is $120 per team/$30 per player. Registration fees should be paid after registration and made payable to: B.E.E.P.
Registration fees can be paid all or in part by team members, the team's coach, or a team sponsor.
All proceeds from the tournament will benefit B.E.E.P. and their ongoing efforts to provide education about breast cancer, promote early detection initiatives, and to provide free breast screenings.
First place in each league wins not only a trophy, but bragging rights for an entire year as the best 3 on 3 basketball team in the Delta.
If you don't play, you can register to volunteer, advertise your business, or sponsor a team.
Early registration is encouraged due to limited space. For more information about registration forms, tournament rules, and waivers, contact Alfreda Cowins at (662) 846-4008 or Miranda Walker at (662) 846-4849.