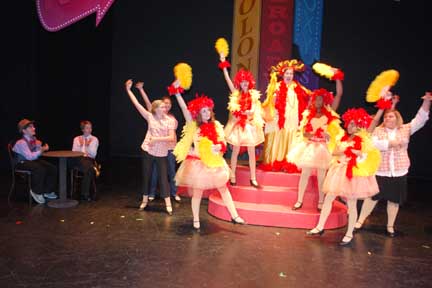 The Mississippi Janice Wyatt Summer Arts Institute Broadway musical production, Guys and Dolls Junior

will be held on Friday, June 26 at 7.30 p.m. and on Saturday, June 27 at 2 p.m. in the Delta and Pine Land Theatre of the Bologna Performing Arts Center on the campus.
Set in Damon Runyon's mythical New York City, Guys And Dolls Junior introduces us to colorful characters who have become legends in the musical theatre canon: Sarah Brown, the up­right but uptight "mission doll,"; Sky Masterson, the slick, high-rolling gambler who woos her on a bet and ends up falling in love; Adelaide, a nightclub performer whose chronic flu is brought on by the fact she's been engaged to the same man for 14 years; and Nathan Detroit, her devoted fiancé, desperate as always to find a spot for is infamous floating dice game.
The Broadway Musical Program gives dedicated, talented young actors the opportunity to engage in professional training for four intense weeks realizing their success in a first-class Broadway production. With a strong focus on teamwork, the program emphasizes personal growth through the acquisition of foundational skills in acting, scene study, voice, movement and musicality.
The Bologna Performing Arts Center offers a variety of artistic activities for youth during the summer through the Mississippi Janice Wyatt Summer Arts Institute that was established in 1998.

The musical is free and open to public. For more information please call the BPAC at (662) 846-4625.