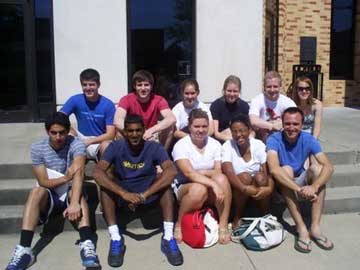 From top left are Matthew Clayton, Kenneth Barshop, Nina Wooley, Erin Convery, Josh Evan, Hilary Henry, (from bottom left) Amir Malek, Braveen Ragunanthan, Alison Kibbe, Kimberley Goffe, and Michael Bernert. All attend Duke University except Kenneth Barshop of UNC
Each summer the Delta State University Delta Center for Culture and Learning serves as host to an elite group of Robertson Scholars who will live in the Mississippi Delta for two months and engage in service learning at various locations around the area.
Robertson Scholars scholarship recipients are enrolled at either Duke University or the University of North Carolina. They can choose one of four placements their first summer which includes the Mississippi Delta, New Orleans, Whitesburg, Kentucky, or Atlanta, Georgia. In subsequent summers, they may go to South Africa, Argentina, Vietnam, or other countries.
This year the Delta Center is hosting eleven of the 39 scholars. Past scholars have continued to return to visit friends in the Delta and often remained in close contact with their summer placements.
This year's scholars are working at the Delta Center, the St. Gabriel Mission in Mound Bayou, with Dr. Steven Clark in Cleveland, at the Community Action Rainbow Emergency Shelter, and with the Sunflower Freedom Project in Sunflower. For more information about the Robertson Scholars in the Delta, call the Delta Center for Culture and Learning at (662) 846-4311.