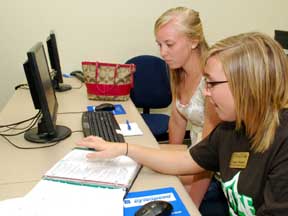 Casey Harlow (front), a Delta State University Orientation Leader of Grenada, assists Katelyn Hulett, of Gulfport, with class registration. Hulett will be entering Delta State as a freshman in the fall semester.
Delta State held the first of three Freshman and Parent Orientations June 10 and 11. The other two Freshman and Parent Orientations will be held June 18-19 and July 9-10. Two Transfer Orientations are scheduled for June 16 and July 7.
About 237 incoming freshmen and parents attended the orientation. Orientation events were held in several of the campus buildings at Delta State.
Delta State University offers an extensive orientation program each summer for new students enrolling in the fall. Sessions for entering freshmen and transfer students, who have been admitted to the university and parents of first-time students, will be held in June and July.
Freshman students and parents attend a two-day program, while transfer students and parents attend for one day.
For more information, please contact Elsie Lynn Ervin, Director of Student Life & Orientation, DSU Box 3202 / Cleveland, MS 38733; email: elervin@deltastate.edu or phone: (662)846-4656.