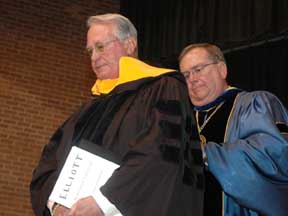 Delta State President Dr. John Hilpert hoods Dr. Robert L. Elliott, bestowing one of the university's highest honors– an honorary Doctor of Science degree.

Both Delta State graduates, Dr. Elliott ('59) and his wife, Dr. Mary Elliott ('63), developed the Elliott Program of Excellence for undergraduate students at their alma mater. The program is multifaceted involving three interactive arenas where students, faculty, and research scientists come together to explore advances in science.
In 1991, Dr. Elliott began working with Delta State faculty and staff to develop The Elliott Program of Excellence. Elliott wanted to "light a fire in today's students in the same manner that a fire was lit in me by those who influenced my life when I was a student at Delta State University." The program is comprised of three areas:
The Elliot-Nowell-White Science Symposium – Dr. Elliott provides the financial resources, as well as his time and his team of associates for the two-day symposium. It introduces Delta State students and faculty to outstanding scientists of international stature.
Research Fellowship Program – Each summer, Delta State students are given the opportunity to participate in leading cancer research studies at the Mastology Research Institute in Baton Rouge. The ten-week fellowship allows students to get first-hand experience working in a laboratory dedicated to the detection and treatment of breast cancer.
Elliott Scholars Program – A scholarship program in the Division of Biological and Physical Sciences that provides Delta State students with fully funded scholarships for the duration of their education at Delta State.
There have been 17 Elliott-Nowell-White Science Symposiums. To date, there have been 38 Elliott Scholars since 1992, and 24 Elliott Research Fellows.
"I am honored to receive this degree and I am living proof that the more you give, the more you will receive," said Elliott. "I urge you graduates to be especially proud of your degree. You are graduates of a great university and the best regional university in the United States. You can go out and compete with the best from anywhere."
Delta State University confers the honorary degree to individuals who have made significant and meritorious contributions to the university, higher education generally or other areas of society. Expected areas of achievement included, but are not limited to, outstanding creative and scholarly work, distinguished leadership or service, significant accomplishments or exceptional philanthropic support.
The honorary degree was unanimously approved by the Institutions of Higher Learning's Board of Trustees.
Dr. Elliott joins Dave "Boo" Ferriss, Elbert R. Hilliard, Charles W. (Charlie) Capps, Jr., Morgan Freeman, Dr. James (Jim) T. Rogers, Dr. Patricia (Patsy) A. Thrash, and Natasha Trethewey to become the eighth recipient in Delta State history to receive an honorary degree.