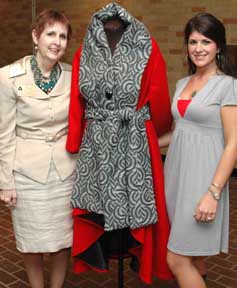 Georgia Wilson (at right), senior fashion merchandising major from Clarksdale, recently won 3rd place in the Mohair Competition at the Dallas Fashion Career Day, sponsored by Fashion Group International.
Pictured with Wilson is Dr. Jan Haynes, Chair of the Division of Family and Consumer Sciences and professor of fashion merchandising in the College of Education at Delta State.
Nearly 500 entries in various apparel/design categories were submitted to the Career Day's annual design exhibition and competition. Slightly over one third of the entries were shown on the runway, and less than 5% received awards.