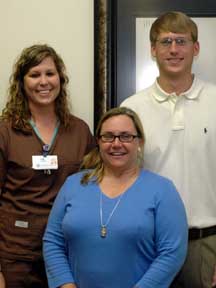 From left, Pickard, McPherson and Rowland
Dietitians from the Delta State University Dietetics program in the College of Education's Division of Family and Consumer Sciences recently took top honors at the 61st annual meeting of the Mississippi Dietetics Association (MDA) in Jackson.
Will Rowland, a graduating senior from Belzoni, was named Outstanding Dietetic Student for the state. Upon graduation, Rowland plans to begin work as a Consultant Dietitian for Tara Cares.
Leigh Pickard, a Registered Dietitian from Cleveland, received the title of Recognized Young Dietitian for Mississippi. She is a 2004 graduate of the Delta State Dietetics Program.
Pickard is employed as Chief Dietitian at the Northwest Regional Medical Center in Clarksdale and acts as a clinical nutrition preceptor for the Delta State Dietetics students.
In addition, Draughon McPherson, RD, an adjunct instructor of nutrition in the Delta State Dietetics Program and a resident of Indianola, was recognized as Emerging Dietetic Leader for MDA, an organization of approximately 850 dietitians throughout the state.
Along with the award, McPherson was extended an invitation to attend the American Dietetic Association Leadership Institute in Dallas, Texas in June with other recipients across the nation.