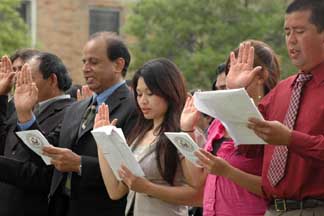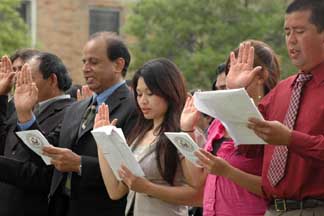 New citizens recite the oath of citizenship during a naturalization ceremony on the Delta State University campus
On a cloudy morning with rain threatening, a large crowd gathered on the Delta State University quadrangle at 8 a.m. on Friday, May 1 for a unique event. The fact that rain appeared imminent and the event didn't start until 10:30 a.m. reflected the excitement and anticipation of the first naturalization ceremony ever hosted by Delta State.
"I was very excited to get here," said Amandeep Brar from India, who now lives in Greenville. "I took classes at Delta State in 2007 and 2008 and it is great to be back on the campus, especially for an event like this. The atmosphere is lively and it's great to be outside."
The Honorable W. Allen Pepper, Jr., United States District Judge, presided over the ceremony. "Delta State has assured me the weather will cooperate with us for today's event," he said when opening the ceremony. "Today is the last day of class at Delta State, with graduation to follow. It is also the day that each of you graduate into United States citizenship."
Noted theologian and world traveler, Dr. Macklyn Hubble, keynoted the ceremony. Hubble regaled the crowd with stories of his career and world travels. He noted the environmental beauty he's seen and the cultures he's experienced.
"I've literally been from pole to pole and witnessed beauty beyond description but the most enjoyable part of all my travels is having the opportunity to meet and get to know the people," said Hubble.
Hubble stressed that it is the blending of people and cultures that make the U.S. population unique. "You make our population stronger by bringing in the new dimension of each culture," he said. "It is your individualism and your point of view that makes our population better."
Following the presentation of candidates for naturalization which required each candidate to stand and say his or her native country, Judge Pepper noted that all 111 candidates summoned were present for the ceremony.
David Crews, U.S. District Court Clerk, swore the new citizens in as the candidates repeated the oath of citizenship. "It is a wonderful and heartwarming ceremony that is an important highlight in the lives of these new citizens, many of whom have great stories about their journey to become citizens of the United States," said Crews.
One new citizen who understands that journey is Claudia Windham. Windham endured a long, arduous adoption process from a Romanian orphanage before being admitted into the country in 1999 at the age of 17. She immediately began the citizenship process and received her green card in 2003.
Claudia and her husband, David L. Windham, now reside in Southaven and are expecting their first child. "It's been a long, hard journey, but I finally feel like I'm home. I feel like I have a place now and a chance for a new beginning."
Windham's hopes for a new beginning reflected the words of Hubble as he closed his address.
"There is no ceiling for you," said Hubble. "You are restricted only by your own imagination and creativity. Welcome to the land of the free and the home of the brave."