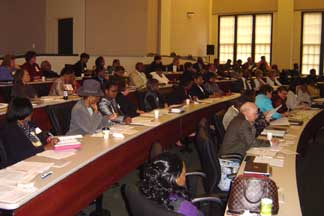 Stimulus funds available to school districts for the creation of new, and expansion of current early childhood education programs for pre-kindergarten was a topic of discussion at Delta State University last week.
Over 75 representatives from Delta school districts, local Head Start programs, Mississippi Department of Education, Mississippi Head Start Association, Congressman Bennie Thompson's Office, Delta Council, and Delta Health Alliance were a part of the meeting-by-invitation hosted by Deborah Moore, Director of the Center for Community and Economic Development at Delta State, and Dr. Cathy Grace, Director of the Early Childhood Institute at Mississippi State University.
The discussion addressed new guidelines and opportunities for school districts and head start programs to develop new programs serving pre-kindergarten students in a summer program supported by Title I funds to be allocated to school districts. During the summer, Delta communities now have an opportunity to provide "academically focused programs" for pre-kindergarten students on basic skills such as reading and writing. The Delta Promise School Program was discussed in detail and presented as a model program to provide these basic skills.
The Delta Promise School Program was developed by Dr. Cathy Grace at the Early Childhood Institute and implemented in the Indianola School District. Supporting partners included the Early Childhood Institute, Sunflower-Humphries Counties, Inc. Head Start program, and the Delta Health Alliance. The program was a 20-day intensive learning process where 85 students entering kindergarten learned their ABC's, began journal writing, used basic reading skills, and increased their vocabulary using books provided by the program. Parent participation exceeded 80 percent. Students tested by nationally and state validated evaluation instruments showed high academic gains in all areas. Louise Bradford, Director of the Sunflower-Humphries Counties, Inc. reported the Program's accomplishments were most impressive in student academic achievement, journal writing, interest in reading, staff development, and parental support.
Pre-kindergarten programs were highly supported by Dr. Terrie Johnson, Director of the Office of Reading, Early Childhood Education, and Language Arts and Patricia Mei from the Office of Innovative Support (Title I) at the Mississippi Department of Education. Nita Thompson, Executive Director of the state's Head Start Association urged school districts and head start administrators to seek opportunities for implementing programs. Additional information is available from Deborah Moore at Delta State's Center for Community and Economic Development, phone (662) 846-4339.