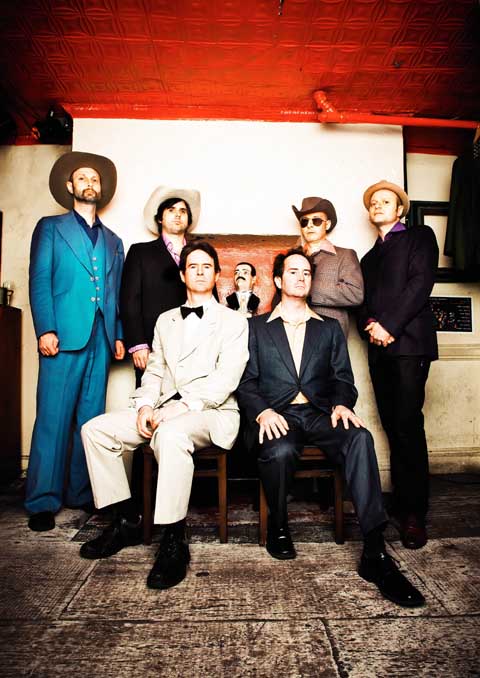 "Psychedelic" is how Olivier Conan, leader of the band Chicha Libre, describes the Peruvian "chicha" music they will perform at 9 p.m. on Tuesday, April 28, on the Quadrangle of Delta State University.
The event is as much of a "dance party" as a concert. Attendees can take advantage of the outdoor venue to move around, dance, or just stretch out under the stars.
The event is sponsored by the Delta State University Special Programs Committee as a part of their annual, month-long Arts in April celebration on campus.
According to the website for Barb
é
s Records at http://www.barbesrecords.com/chicha.html, the group's record label, Chicha Libre, "mixes up covers of forgotten Chicha classics with French-tinged originals, re-interpretation of 70's pop classics as well as "cumbia"versions of pieces by Satie and Ravel."
The word "chicha" has two meanings. It was first the name of corn liquor that was popular among the Incas before Columbus arrived in the Americas. It was also used as the name of a popular musical style in South America in the 1970s that mixed melodies and rhythms from the Andes mountain region and the "son" style from Cuba with surf guitars, farfisa organs and moog synthesizers, which gave it the "psychedelic" edge.
Based in Brooklyn, NY, Chicha Libre originated as a group to keep this captivating, blend of musical styles alive, in hopes that it might eventually catch the ears of a wider global audience. Their repertoire has continued to find new directions, but the basic sound still imitates those bands from the Amazon region. Although Chicha Libre's eclectic style recalls classical and pop music from around the world, it remains rooted in Latin rhythms.
Conan will give a guest lecture on "chicha" music on Wednesday, April 29, at 12:05 p.m. in Room 153 of Zeigel Hall on campus.
The concert and lecture are both open to the public at no charge. Bring your lawn chair or blanket and join the party.
For more information, contact Dr. Mark Butler at (662) 846-4619.